FFF's Adoptable Pets
Click the Donate button above to donate directly to

FFF via Paypal.


Welcome

iGive

Shoppers!

Visit Chewy.com to donate food for FFF. Our kitties thank you.
To view more information about one of our pets,
just click that animal's "More In-fur-mation" link.




Ages of our cats and kittens are approximate and may reflect the age





at which the cat entered F.F.F.'s Program.
F.F.F. makes every effort to update the ages of our cats periodically.





When inquiring regarding one of our cats, please ask regarding the current age.



OUR FEATURED CAT:
GYPSY!!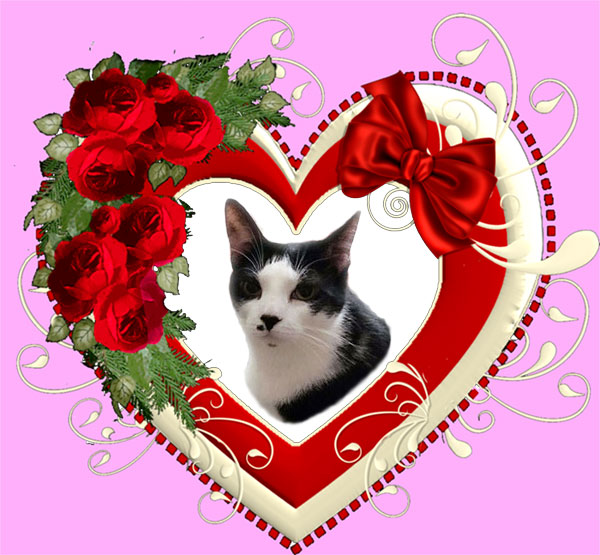 Despite her fragile state of health when FFF accepted her and her two sisters into our SOL Program., GYPSY beat the odds to become an active, curious, energetic, and affectionate kitty. She is a fast learner and an independent, very self-possessed cat, loving to explore and engage in games of chase with even the largest of her foster friends. She doesn't take any gruff from even our big foster Toms! Because of her independence and preferring people's company, she would do fine as an only cat. Due to her activity level, she would not be a good match for a quiet, sedate situation or a senior.

Gypsy has developed into quite the busy body. She likes to investigate and be involved in her human activities. She has been raised in an adult-only home but might be fine with gentle children. It is unclear how she will be with a friendly dog?

She is current on her FVRCP shot, combo tested negative for Feline AIDS and leukemia, and is spayed.

She enjoys a safe, enclosed outdoor space to explore. Because of her activity level and familiarity with the enclosed outdoor experience, she will need to have an ENCLOSED outdoor catio.
Want to know more about Gypsy? Please contact FFF at
[email protected] or (925) 808-8364
S.O.L. RESCUE!
MEET OUR CHUPA, MS. DOOLEY, AND TINY TIM
Our Featured S.O.L. Cats!
It started with a frantic phone call …
A frantic good Samaritan had found 4 kittens in an industrial equipment lot. The kittens were dirty, emaciated, and sickly but friendly. After a day and a half of devoted efforts to help these kittens, they realized they did not have the expertise or resources to help them. They contacted FFF for consultation and quickly decided they wanted FFF to take them into their care. Thankfully, a former foster took them in on an emergency basis until they could be transported to our FFF sanctuary property.
The kittens received emergency medical care and were on an FFF-supportive care regimen. Sadly, despite emergency medical care, the smallest and weakest of the kittens could not be saved. The remaining trio is responding to the medical and supportive care being provided at our sanctuary. Unfortunately, all 3 are on a medical protocol and are not yet available for adoption at this time.
We will update their medical status and well-being as soon as they are stable and ready for possible adoption.
MS DOOLEY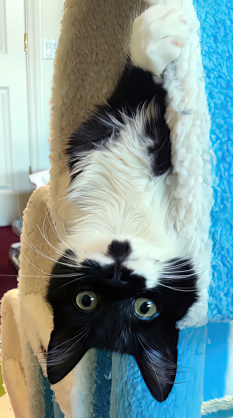 Ms. Dooley hanging out.
Ms. Dooley started her life with FFF with the misconception that she was a male! Upon examination by our vet, it was found that he was actually a she. She came in a bit shy but is now a strong, active, friendly, and curious kitten. She has become the leader of the trio. She loves to explore her surrounding while ripping and running around. A very active and independent kitten. She was initially leery of new people, but her curiosity and friendliness overcame her fear of new people.
Chupa in his pumpkin.
CHUPA
Initially, Chupa was the most significant, most active, and the trio's leader. His penchant for tackling and play-biting the necks of siblings earned him the name of his foster mom Chupacabra. This was a joking reference to a mythical monster that sucks the blood of goats from the neck. Luckily, he has mellowed with age and now plays nicely with his siblings. But, in an ironic twist of fate, Ms. Dooley has now taken over the trio's leadership. Recently it was found that he had a malady that he is in treatment for, and we hope for a full and speedy recovery. We will post updates on his progress.
TINY TIM
Tiny Tim remains the smallest and weakest of the trio. He is responding to his medical treatments and becoming more active and playful with his sibling. He is very loving and the most people-oriented and loving of the trio. He loves to snuggle with his foster mom or sleep intertwined with his brother, Chupa. He has developed an insatiable urge to bolt out of his surroundings to explore beyond his door. After completing his medical protocol, we will post updates on his progress.

Tiny Tim lounging in his Christmas sweater.
If you would like to provide T.L.C. and shelter for a needy cat, or dog... Contact: Sally - (925) 808-8364 [email protected]
ADOPTION DAYS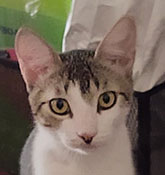 Reginald
(Adoptable)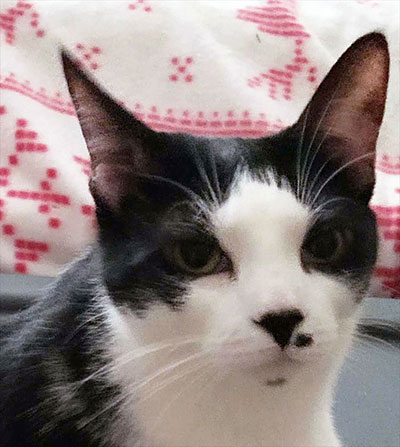 Gypsy
(Adoptable)
IN ORDER TO KEEP EVERYONE SAFE
IN THESE TURBULANT TIMES,
FFF WILL TEMPORARILY SUSPEND OUR MONTHLY ADOPTIONS
AT THE RHEEM VALLEY PET STORE...

INSTEAD...

FFF WILL BE SCHEDULING
PRIVATE APPOINTMENTS
FOR CATS TO BE SHOWN.
SHOULD ONE OF THE CATS CATCH YOUR EYE,
PLEASE CONTACT FFF AT:
[email protected] or (925) 808-8364
for inquiries


Thank you for your understanding.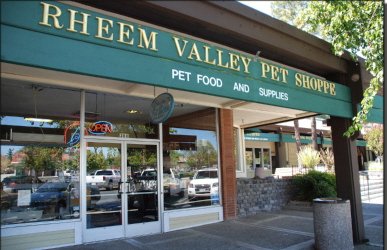 Once adoptions reopens after this Covid-19 pandemic, come join us at the Rheem Valley Pet Shoppe for an Adoption Weekend. The nice people at Rheem Valley Pet Shoppe have invited us to bring our Formerly Friendless Felines to "Meet and Meow" with you, along with our Featured Pet.
ANNOUNCEMENT...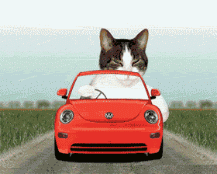 FFF HAS GONE MOBILE!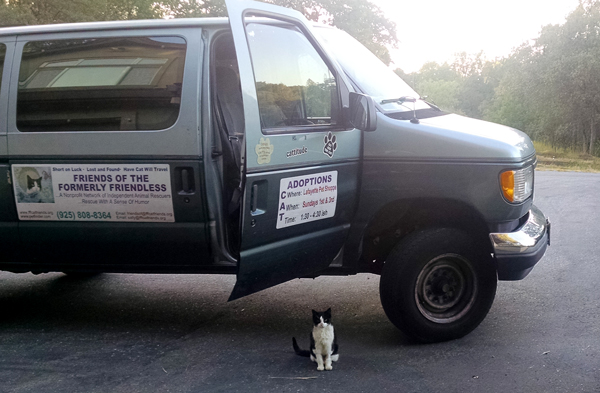 FFF will continue private showings/appointments through our HAVE CAT WILL TRAVEL PROGRAM to show our "Formerly Friendless Felines" until we can secure another monthly adoption site to be able "meet and meow" with our public.

We look forward to seeing you at our new locations.

We look forward to seeing you.

FFF STAFF
F.F.F. Policies
Adopting a Friend
An interview, application and home visit is required, followed by a 5-7 day trial visit of the selected pet in the prospective adoptive home. At the end of the trial period, FFF will mutually evaluate the trial visit and determine the suitability for adoption. If deemed necessary by FFF, a final home visit is required. An Animal Care Adoption Contract is required to be signed by the adopter and a FFF representative, upon final FFF Board approval. The adopter(s) must be of legal age to sign a legal contract.

FFF does NOT allow FFF animals to be given as gifts or adopted for third parties.

FFF appreciates a contribution to help offset our veterinary costs which include:
Combo test for FeLV and FIV (feline leukemia and feline AIDS)
First FVRCP
Spay or Neuter
Pain medications for recovery
De-worming
Flea control
Microchip
Special circumstance adoptions are available for eligible adopters.
Micro-Chipping
In an effort to provide our F.F.F. graduates, their families, and our dedicated F.F.F. fosters/staff with peace of mind, we have begun micro chipping all of our adoptees. This will provide a safety net for our formerly friendless felines that go on to their new homes.

F.F.F. is listed as the secondary contact in the event that an emergency or unforeseen circumstance causes them to be lost, stolen or strayed. This should make sure that our F.F.F. adoptees will always have a friend if they are in need and always be "formerly friendless".
Appointments
We show our cats by appointments in the evenings during the work week, either at our adoption site, or your home. Appointments can be made with Sally through our HAVE CAT WILL TRAVEL Program. Availability of the cats or kittens for appointment depends on the availability of the foster and transportation arrangements. If you see a cat or kitten you are interested in on our website, contact Sally via our email or by phone to check on the availability of that cat or kitten for evening appointments.
Adoption Criteria
As a rule, F.F.F. does not offer kittens below twelve-to-fourteen weeks of age for adoption. All F.F.F. cats and kittens are combo tested for feline AIDS and feline Leukemia prior to adoption. Our veterinarians have advised us that the testing for these diseases is not accurate or dependable below twelve-to-fourteen weeks of age. Therefore, we will not release any cat or kitten for adoption until we can be assured of an accurate test result.

It is F.F.F.'s philosophy that we will not knowingly adopt any cat or kitten into your home that we wouldn't place in our own homes. We appreciate your understanding.