Short On Luck (S.O.L.)

...is an emergency foster program for at risk cats and critters.

...working in cooperation with community rescue groups and Animal Services Departments.
A new phase of the Short on Luck Program was launched in January of 2004. The Safe Place component of the S. O. L. is being developed to provide a temporarily safe place for cats that are caught up in a domestic violence situation and/or at risk of violence from their environment. The concept is to provide a temporary sanctuary through a network of emergency foster homes.

We hope to work cooperatively with local law enforcement, Animal Services and battered women's organizations. If you would like to participate in this new and unique program, please contact us via our website or at (925) 808-8364.

If you would like to provide T.L.C. and shelter for a needy cat...Contact: Sally - (925) 808-8364 [email protected]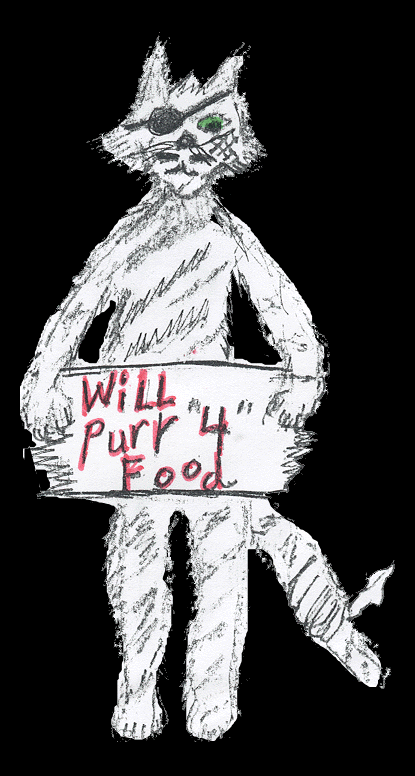 S.O.L RESCUE!
MEET PATCHES
Our Featured S.O.L. Cat!
Malcolm ready for bed.
Martin ready for shopping.
It started with a phone call to our FFF Hotline. A concerned woman, a good Samaritan, had been feeding an elusive cat at her worksite in hopes of catching her and getting her a good home. Sadly, before that could happen, the mean streets took the kitty when she was found deceased ... hit by a car.
The kind lady realized the kitty had kittens but she didn't know where they were or how many. With the help of a coworker, these two ladies scoured the neighborhood on their lunch hours until, hidden and almost starving, they found these two brothers. They contacted FFF, and arrangements were made to meet locally and immediately take these two little brothers in through the FFF Short On Luck Program (S.O.L.)… more information here.
Malcom being festive.
The brothers were in serious shape and were immediately transported to FFF's bottle feeder extraordinaire, to begin their life saving treatment. Slowly, the brothers responded to the TLC and treatments and soon turned into a rollicking and rambunctious duo!
They are now healthy, ACTIVE and endlessly entertaining kittens.  They will soon complete their first series of shots and be neutered. Upon FFF Adoptions reopening, they will be placed on our FFF Adoption List. We would prefer to have them adopted together. A waiting list will be made available for the bothers in the interim.
If you would like to provide T.L.C. and shelter for a needy cat, or dog... Contact: Sally - (925) 808-8364 [email protected]