Short On Luck (S.O.L.)
Click the Donate button above to donate directly to

FFF via Paypal.


Welcome

iGive

Shoppers!

Visit Chewy.com to donate food for FFF. Our kitties thank you.
Short On Luck (S.O.L.)

...is an emergency foster program for needy cats.

...working in cooperation with community rescue groups and Animal Services Departments.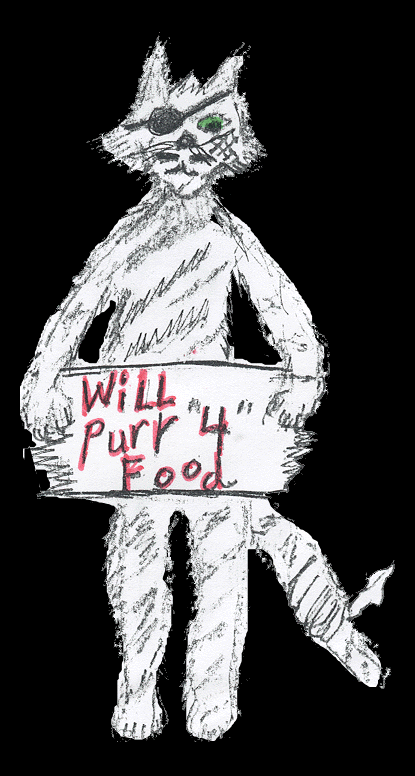 A new phase of the Short on Luck Program was launched in February of 2004. The Safe Place component of the S. O. L. is being developed to provide a temporarily safe place for cats that are caught up in a domestic violence situation and/or at risk of violence from their environment. The concept is to provide a temporary sanctuary through a network of emergency foster homes.

We hope to work cooperatively with local law enforcement, Animal Services and battered women's organizations. If you would like to participate in this new and unique program, please contact us via our website or at (925) 808-8364. For more informaiton on current S.O.L. kitties, please visit our website at www.fffcatfriends.org.

If you would like to provide T.L.C. and shelter for a needy cat...
Contact:
FFF at (925) 808-8364 or [email protected]
S.O.L. RESCUE!
MEET CHUPA, MS. DOOLEY, AND TINY TIM
Our Featured S.O.L. Cats!
It started with a frantic phone call …
A frantic good Samaritan had found 4 kittens in an industrial equipment lot. The kittens were dirty, emaciated, and sickly but friendly. After a day and a half of devoted efforts to help these kittens, they realized they did not have the expertise or resources to help them. They contacted FFF for consultation and quickly decided they wanted FFF to take them into their care. Thankfully, a former foster took them in on an emergency basis until they could be transported to our FFF sanctuary property.
The kittens received emergency medical care and were on an FFF-supportive care regimen. Sadly, despite emergency medical care, the smallest and weakest of the kittens could not be saved. The remaining trio is responding to the medical and supportive care being provided at our sanctuary. Unfortunately, all 3 are on a medical protocol and are not yet available for adoption at this time.
We will update their medical status and well-being as soon as they are stable and ready for possible adoption.
MS DOOLEY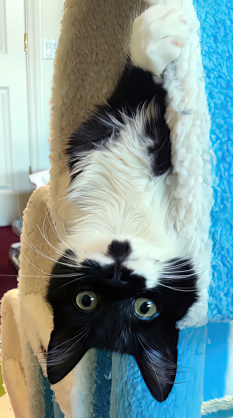 Ms. Dooley hanging out.
Ms. Dooley started her life with FFF with the misconception that she was a male! Upon examination by our vet, it was found that he was actually a she. She came in a bit shy but is now a strong, active, friendly, and curious kitten. She has become the leader of the trio. She loves to explore her surrounding while ripping and running around. A very active and independent kitten. She was initially leery of new people, but her curiosity and friendliness overcame her fear of new people.
Chupa in his pumpkin.
CHUPA
Initially, Chupa was the most significant, most active, and the trio's leader. His penchant for tackling and play-biting the necks of siblings earned him the name of his foster mom Chupacabra. This was a joking reference to a mythical monster that sucks the blood of goats from the neck. Luckily, he has mellowed with age and now plays nicely with his siblings. But, in an ironic twist of fate, Ms. Dooley has now taken over the trio's leadership. Recently it was found that he had a malady that he is in treatment for, and we hope for a full and speedy recovery. We will post updates on his progress.
TINY TIM
Tiny Tim remains the smallest and weakest of the trio. He is responding to his medical treatments and becoming more active and playful with his sibling. He is very loving and the most people-oriented and loving of the trio. He loves to snuggle with his foster mom or sleep intertwined with his brother, Chupa. He has developed an insatiable urge to bolt out of his surroundings to explore beyond his door. After completing his medical protocol, we will post updates on his progress.

Tiny Tim lounging in his Christmas sweater.
If you would like to provide T.L.C. and shelter for a needy cat, or dog... Contact: Sally - (925) 808-8364 [email protected]