FFF's Adoptable Pets
Welcome to our Adoptable Pets section. We hope you enjoy viewing our formerly, friendless critters. Should one of our critters catch your eye, please contact Sally at (925) 808-8364
ANNOUNCEMENT...

FFF IS GOING MOBILE!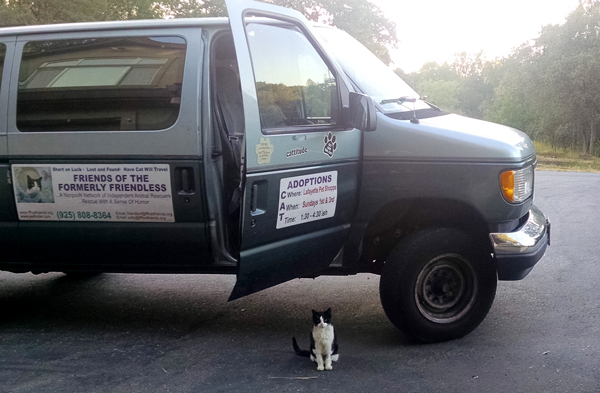 FFF will be leaving the Lafayette Pet Shoppe due to the store's closing at the end of July.
FFF will continue private showings and use our HAVE CAT WILL TRAVEL PROGRAM to show our "Formerly Friendless Felines" until we can secure another monthly adoption site to be able "meet and meow" with our public.
AUGUST 2-16
FFF will be CLOSED to make the transition to mobile adoptions.
CONSULT our WEBSITES, fffcatfriends.org and Petfinder.com/Friends of the Formerly Friendless for our future SCHEDULES and LOCATIONS.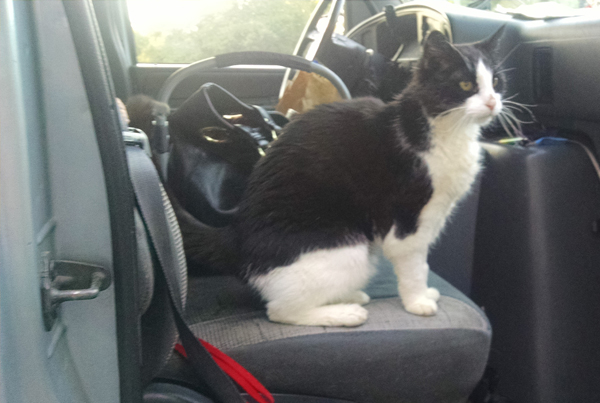 We look forward to seeing you at our new locations.

PETUNIA and I look forward to seeing you.

FFF STAFF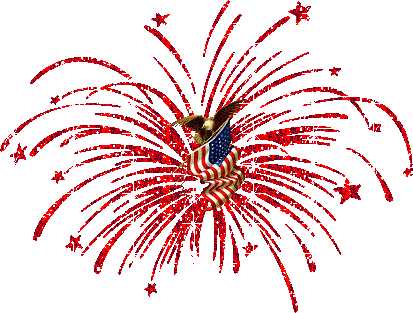 "Downtown"
Boston Austin
and Elwood,
Our Featured Cats...
Our "Downtown" BOSTON AUSTIN is a cool and savy dude of a kitty! He is a big, lanky, sleek boy with lots of energy and affection to give. He is OK with other non aggressive cats, but he likes to initiate the play. He hates being closed out of the action and will cry until he can be part of the family. He seems to be a nice blend of "dog kitty" and loveable gallump. He likes to plop down and get scratches.

He should make a loving, active boy and great member of any family. Good buddy cat for DAD!




My name is Elwood of Jake and Elwood fame. Sadly, we lost my brother Jake to a fatal virus so I am left to carry on. I am an affectionate, loving and active boy who likes to play and roughhouse with active, friendly kitties. But I love "people attention" the best. I would love to come and live with you and another friendly kitty.




I may be a little shy at first, but will warm up to you as soon as I feel comfortable. I could probably get used to a friendly dog or two also. Maybe I'll see you at adoption day sometime soon?
If you would like to meet any of the animals listed on the FFF or Petfinder sites,
you can contact Sally.




Ages of our cats and kittens are approximate and may reflect the age





at which the cat entered F.F.F.'s Program, and/or based on our vet's best estimate.
F.F.F. makes every effort to update the ages of our cats periodically.





When inquiring regarding one of our cats, please ask regarding the current age.



Our critters are sorted alphabetically as follows:
To view more information about one of our pets,
just click that animal's "More In-fur-mation" link.
F.F.F. Policies
Adopting a Friend
An interview, application and home visit is required, followed by a 5-7 day trial visit of the selected pet in the prospective adoptive home. At the end of the trial period, FFF will evaluate the trial visit and determine the suitability for adoption. If deemed necessary by FFF, a final home visit is required. An Animal Care Adoption Contract is required to be signed by the adopter and a legal FFF representative, upon final FFF approval. The adopter(s) must be of legal age to sign a legal contract.

FFF does NOT allow FFF animals to be given as gifts or adopted for third parties.

FFF would appreciate a contribution to help offset our veterinary costs which include:
Combo test for FeLV and FIV (feline leukemia and feline AIDS)
First FVRCP
Spay or Neuter
Pain medications for recovery
De-worming
Flea control
Microchip
Special circumstance adoptions are available for eligible adopters.
Micro-Chipping
In an effort to provide our F.F.F. graduates, their families, and our dedicated F.F.F. fosters/staff with peace of mind, we have begun micro chipping all of our adoptees. This will provide a safety net for our formerly friendless felines that go on to their new homes.

F.F.F. is listed as the secondary contact in the event that an emergency or unforeseen circumstance causes them to be lost, stolen or strayed. This should make sure that our F.F.F. adoptees will always have a friend if they are in need and always be "formerly friendless".
Appointments
Under special circumstances, we show our cats by appointments in the evenings during the work week. Availability of the cats or kittens for appointment depends on the availability of the foster and transportation arrangements. If you see a cat or kitten you are interested in on our website, contact Sally via our email or by phone to check on the availability of that cat or kitten for evening appointments.
Adoption Criteria
As a rule, F.F.F. does not offer kittens below twelve-to-fourteen weeks of age for adoption. All F.F.F. cats and kittens are combo tested for feline AIDS and feline Leukemia prior to adoption. Our veterinarians have advised us that the testing for these diseases is not accurate or dependable below twelve-to-fourteen weeks of age. Therefore, we will not release any cat or kitten for adoption until we can be assured of an accurate test result.

It is F.F.F.'s philosophy that we will not knowingly adopt any cat or kitten into your home that we wouldn't place in our own homes. We appreciate your understanding.