New Beginnings
We, at FFF, strive to connect our "formerly friendless critters" with responsible, loving and caring homes. When someone adopts one of our "formerly friendless animals", it brings us great joy. In celebration of those who have found loving and forever homes, we would like to share their stories of their "New Beginnings".
A New Beginning for
Felicity Ann
"
Friends of the Formerly Friendless
"accidentally" found "friends" for a beautiful calico cat named Felicity Ann. Felicity came into our lives shortly after Allan and I were traumatized by a near fatal head on collision, January 12, 2015. We were on a two lane highway near Grass Valley, California when the accident occurred".
"Although we both adore cats and have had three different cats for 30 years, we lost our last cat, Mica in 2011. We said, "no more pets". However, Charlie and Sally Welch entered our lives randomly, in a restaurant in Penn Valley, California. One thing led to another and soon we decided to meet Felicity. You could say that it was "love at first sight." Her gorgeous green eyes gazed into Allan's and the decision was made".
"Felicity, was a little bit of a loner cat. We were told that she did not mingle much with other cats. Nevertheless, she showed us that our love and affection was what she craved! She receives at least 100 kisses and pets a day as well as play time with her favorite toy. Felicity is obsessed with her "fabric on a stick" toy and she only meows when she wants us to play with her. She gathers the stick in her mouth and drags it over to us, saying, "play with me now" and of course, we comply if possible. Felicity also spends time each day looking out our many windows at the birds and squirrels that inhabit our yard in our beautiful Lake Wildwood".
"Before bedtime, Felicity gets a dose of what we call, "Run Around Sue". Allan uses the laser to tire her out for the night. A lightning bolt of pure "kitty" energy is all that I see. Sweet dreams, dear Felicity Ann"!
"This adorable cat is the new "love of our lives" and a precious gift that is healing us from our PTSD from our accident. Thank you Sally and Charlie for bringing us Felicity Ann".
Sincerely,

Janie and Allan Berman
Felicity's story is truly inspirational and a tribute to her spirit. FFF got an emergency call from our adoption site, indicating a "good Samaritan" had seen a car drop off a battered and filthy cat carrier in their parking lot and drive off. Inside , full of filth, was a young calico mother and her crippled kitten. One of our FFF dedicated fosters, immediately picked up these two at risk kitties and transported them to our vet.
Amazingly, these two were not critically ill or injured! The next few months, both Mom, Felicity, and kitten, Tiny Tim, made great progress putting on weight and becoming trusting.
Tiny Tim, was adopted by one of the young staff members at the adoption site who had called FFF to rescue him.
Mom, Felicity, although friendly, maintained her distance and remained reserved for some time to come. Although in a loving foster situation, she remained private .
It is only now, with love and understanding, that her true , beautiful nature is beginning to unfold. Her New Beginning with Janie and Allan is a heart warming affirmation of love' s power to heal... both humans and cat."
All of us at FFF wish Felicity Ann and her new family a wonderful life together.  It is a New Beginning like this that keeps FFF striving to find forever homes for all our Formerly Friendless Felines.
P.S. Allan is a well-known pastel artist and photographer who made our last cat famous in his painting entitled: For The Love of Mica... It won Best Pastel on the Web in the year 2000. Check it out on his web site www.bermanstudios.com
Allan graciously donated a beautiful photographic portrait of our Petunia.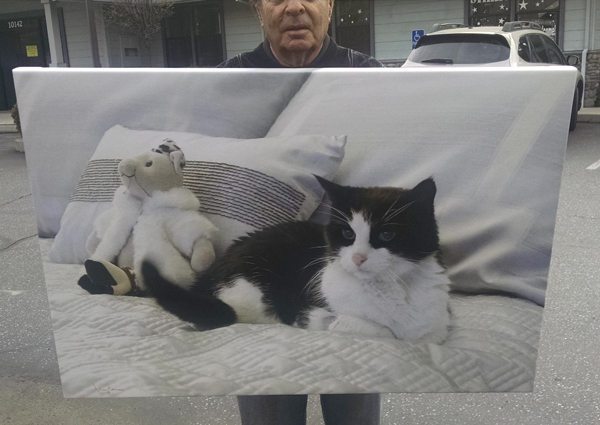 If you are ready to provide a NEW BEGINNING to a needy animal, please take a moment and look though our Adoptable Critters.

Also, you can browse through our gallery of adopted friends on PetFinder.com's Happy Tails. We hope that the stories from our Adoptees will inspire you to open your home and heart and become a "Friend of the Formerly Friendless!"
Here are a few of our recent Happy Tails:
Felicity, Roberta, Coco, Baxter and Patrice