New Beginnings
We, at FFF, strive to connect our "formerly friendless critters" with responsible, loving and caring homes. When someone adopts one of our "formerly friendless animals", it brings us great joy. In celebration of those who have found loving and forever homes, we would like to share their stories of their "New Beginnings".
A New Beginning for
Sunshine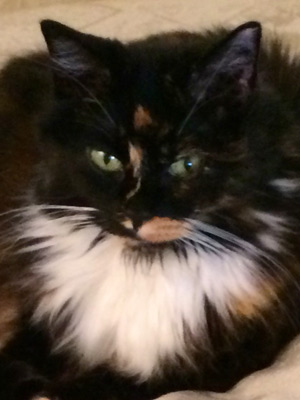 "In the Fall of 2007 Mei and I were looking for a kitten to be a playmate for our current kitty, Sandy. I guess you could say that Sunshine rescued us. She has been a blessing from the time she came to our home. We are so grateful that Friends of the Formerly Friendless allowed us to adopt Sunshine".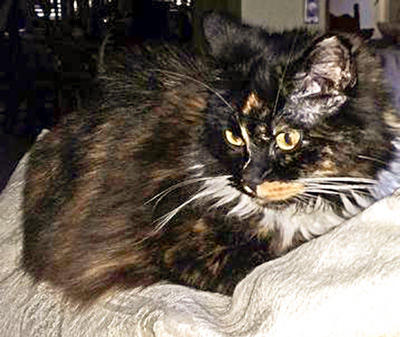 "A wet nose bumping your cheek in the morning is her reminder for me to head to my morning workout. When I return home her toys are lined up beside the sofa. Must be time to play. She even has learned to return a few, just not all. When we have our morning coffee Sunshine goes between Mei and myself so we both can have the privilege of petting her before we leave".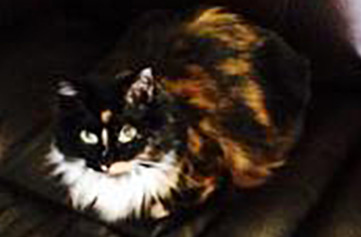 "When Mei returns from her work Sunshine climbs on the back of the sofa and sniffs and paws at her hair. Her way of saying that Mei needs a shampoo. When I take her brush and tap the kitchen counter she comes running. It is brushing time. She loves to be brushed. She also received many accolades when I post her picture on Facebook. We are happy and proud to share our home and lives with Sunshine".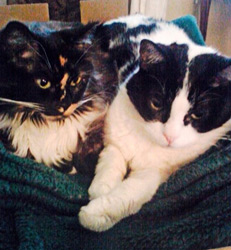 "We were given a new kitten from a unexpected litter of a friend. We are forever grateful for your allowing us to adopt Sunshine".
All of us at FFF wish Sunshine and her new family a wonderful life together.  It is a New Beginning like this that keeps FFF striving to find forever homes for all our Formerly Friendless Felines.
If you are ready to provide a NEW BEGINNING to a needy animal, please take a moment and look though our Adoptable Critters.

Also, you can browse through our gallery of adopted friends on PetFinder.com's Happy Tails. We hope that the stories from our Adoptees will inspire you to open your home and heart and become a "Friend of the Formerly Friendless!"
Here are a few of our recent Happy Tails:
Felicity, Roberta, Coco, Baxter and Patrice