New Beginnings
We, at FFF, strive to connect our "formerly friendless critters" with responsible, loving and caring homes. When someone adopts one of our "formerly friendless animals", it brings us great joy. In celebration of those who have found loving and forever homes, we would like to share their stories of their "New Beginnings".
A New Beginning for
Larry & Moe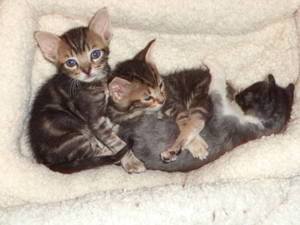 The story of Moe , Larry... and brother Curly. began with an emergency call from a distressed lady who said there were three abandoned kittens under her deck and her dog might kill them.
These three little orphans, later named, for lack of better names at the time, Larry, Moe and Curly, were brought into our vet and subsequently taken to foster by one of our most dedicated and loving fosters, Susan. She bottle fed and lovingly cared for these kittens through illness and growing pains. As they grew, their very distinct personalities were revealed.
Larry, exhibited a sensitive almost clairvoyant quality of being able to sense pain or stress and would literally lay on and console his foster Mom when she was plagued with headaches or back pain. He seemed to use his warmth and affection to know right where to lay and heal. He also took care of his brothers, and gave them solace when they all had to be neutered and stay overnight at our vet. ...It was reported that he lay with his arms around his brothers and kept all calm while they healed.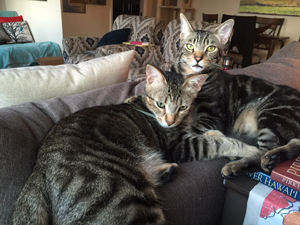 Moe, was a bit shy but loving also. Curly, their black and white brother, became attached to his foster Mom, and now happily resides permanently with her.
Larry and Moe were inseparable... part of a team of soul mates. So when we placed them, with heavy hearts, we knew we wanted them to go together. Kismet sent their present new Mom.... when she contacted FFF to adopt brothers... A perfect match!
"After living in Washington, DC, for almost 10 years, I decided to move back to Northern California. I started looking for the essential things I would need to do so—job, apartment, and cats! I had always had cats in my life until I moved to DC, and couldn't wait to have a pair of kitties again.".




"I started looking on Petfinder.com, and one day I saw a picture of Moe, a sweet little male black and grey bengal. What made Moe jump out to me is that he looked just like one of my cats from my youth who had passed away shortly before I moved to DC. He was a year old bottle-fed rescue who was pair-bonded with his brother, Larry. I was thrilled! This was exactly what I had hoped to find!".




"The boys and I now share a home in Mountain View. I have renamed them Franklin and Teddy, and they love sitting in the windows and watching squirrels and birds that live in the trees. I am so grateful to their foster mom who took care of them and raised two playful and loving little guys".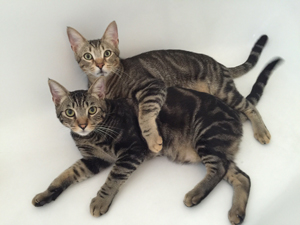 FFF wishes the brothers, FRANKLIN and TEDDY , formerly aka Larry and Moe, a long and happy New Beginning with their new Mom. It is New Beginnings like this that keep FFF hopeful and committed to finding wonderful new homes for all of our "formerly friendless kitties"...
If you are ready to provide a NEW BEGINNING to a needy animal, please take a moment and look though our Adoptable Critters.

Also, you can browse through our gallery of adopted friends on PetFinder.com's Happy Tails. We hope that the stories from our Adoptees will inspire you to open your home and heart and become a "Friend of the Formerly Friendless!"
Here are a few of our recent Happy Tails:
Felicity, Roberta, Coco, Baxter and Patrice