New Beginnings
We, at FFF, strive to connect our "formerly friendless critters" with responsible, loving and caring homes. When someone adopts one of our "formerly friendless animals", it brings us great joy. In celebration of those who have found loving and forever homes, we would like to share their stories of their "New Beginnings".
A New Beginning for
Patrice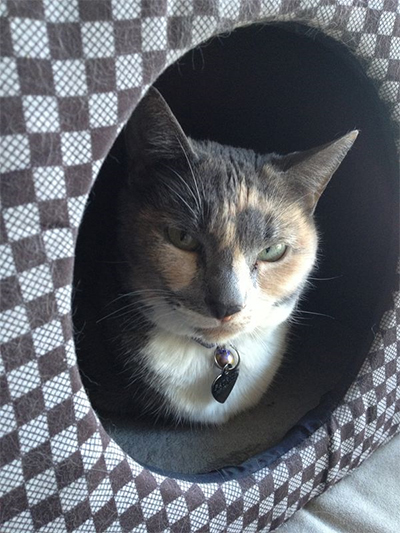 PATRICE is one four kittens born at our vet's office from one of the valiant "street madonna" moms abandoned on the mean streets of our communities. Her Mom, named Zephyr, by the hospital staff, gave birth within days of being rescued by FFF. Patrice was named after one of the vets who worked with FFF. Her brother, EVANS, was named after Dr Mike Evans, that provides FFF vet services, through his clinic, Animal Care Clinic, Patrice's sister, Teri, was named after another vet onsite, and brother, Duffy, was named for his personality. Patrice is the spitting image of her Mom and had the wonderful placid, self possessed manner from her Mom Zephyr. Duffy, and Teri have also found new beginnings in forever homes. ZEPHYR and EVANS, await a New Beginning in our FFF Foster Program.
PATRICE found her forever home and through our website and subsequent meeting with her kitty Mom. The rest is history. She is a very lucky cat ,as she has not only a loving Mom, but an extended family that loves her dearly. This is truly a wonderful " new beginning" for PATRICE ...from rescue from a life on the streets to a loving, and stable home where she is loved by all!
UPDATE..by Patrice's Mom

"Patrice and I are doing well. We moved recently, and Patrice is on cloud 9. She loves running around up and down the stairs.

She's a master sprinter--she loves being in a house vs. an apartment because she really picks up speed and goes long distances up and down stairs. Everyone who meets her says she's very "regal" from the handyman who comes to fix the plumbing to the vet. She always sits in my lap in the morning when I'm reading the newspaper in the morning. She's always happy when guests come over—she's very social and she makes everyone fall in love with her. She enjoys sitting on people's laps when they're sitting down to read for an extended period of time. She's an indoor cat and sometimes likes to rush the door, but when she gets outside she doesn't go very far. She has a "boyfriend," a local outdoor cat, that sometimes comes to the window and they lovingly stare at each other".
FFF wishes Patrice and her new Mom many happy years of companionship and love.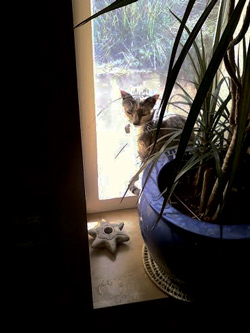 If you are ready to provide a NEW BEGINNING to a needy animal, please take a moment and look though our Adoptable Critters.

Also, you can browse through our gallery of adopted friends on PetFinder.com's Happy Tails. We hope that the stories from our Adoptees will inspire you to open your home and heart and become a "Friend of the Formerly Friendless!"
Here are a few of our recent Happy Tails:
Cookie, Spike, Ears, Garfunkle, Mary Hartman, Precious, Maizie