New Beginnings
We, at FFF, strive to connect our "formerly friendless critters" with responsible, loving and caring homes. When someone adopts one of our "formerly friendless animals", it brings us great joy. In celebration of those who have found loving and forever homes, we would like to share their stories of their "New Beginnings".
A New Beginning for
LUCY (aka BUTTERSCOTCH)
Butterscotch was one of several senior cats that had been dumped at our local Shelter . Her story was heartbreakingly common. ..a senior family member passing away and uncaring family members depositing her at the local Shelter !  FFF was prevailed upon to rescue her by a caring person who asked FFF to add her to their rescue list.

Butterscotch came to FFF a defensive and wary cat not used to being with other cats. While she learned to accommodate in her understanding foster home, she was not happy being with other cats. She was solitary and I am sure longed for her "person" that was gone.  A loving foster mom helped her to become more at ease and to once again enjoy the company of a caring person.
One adoption day, a gentleman and his partner, inquired about Butterscotch. Upon meeting her, they decided to adopt her. She would be an only cat and have their undivided attention. We were overjoyed for her !
We kept in touch with her new family , hoping that the transition would be a smooth one.
For a short while, things appeared to be going fine. However, were dismayed when we got a call from her family, indicating that Butterscotch was not happy as the work hours for both partners were increased and she spent much of the day at home alone. She became reclusive , sleeping in the bathroom sink and/or using it as a catbox.
With sadness, FFF accepted Butterscotch back into our foster system where she remained for months.
Then one day, FFF received an inquiry regarding our Butterscotch from a senior lady, named Peggy.
Peggy writes of that day:

"After I lost my white cat companion, Esme, to old age and failing kidneys, I thought I'd not get another cat because of my own old age.
But after six weeks of being catless, I started looking online at petfinder.com, to see the various cats in my area that might need a new home. There, at FFF, was a photo of Sally holding " Butterscotch, a lovely tortoiseshell cat. Over the years, I've had five different torties and have always been attracted to them. So,off I drove to Concord from my apartment in Oakland, to meet both Butterscotch and Sally. Idecided, upon that meeting, to adopt Butterscotch.
A week later, Sally brought Butterscotch to my apartment in Oakland ...

 Four years later, Lucy aka Butterscotch and I quite happily live together. Lucy is sweet natured and I' m so pleased to share my life with her. I live in a senior residence and although having a cat is not discouraged , I did worry about what would happen to Lucy if I died before she did. Not to worry! FFF contracted with me to help rehome Lucy should that event occur.

Lucy is a sociable cat, talking a lot..Mrrow, Mrrrow, Mrrow! At Christmas I go to Healdsburg for a few days and Lucy goes along to "Camp Virginia", a friend's apartment one floor up to stay with my friend, Virginia, whose family comes for a potluck dinner on Christmas day. Lucy, I am told supervises the day and greets all the visitors too!"
Two of Lucy's endearing little habits, writes Peggy are:
"Lucy is a " leftie", she dips her left forepaw into her water bowl and licks the water from her paw. When she wants my attention, she'll stand up on her back legs, right leg resting on the chair and wave her left paw trying to get my notice! Once in my lap, she uses her left forepaw to tap my chin!"


FFF wishes Peggy and LUCY many more years of happiness and friendship. ..and reminds us that senior cats bring special gifts to their senior " person"(s) and vice versa.. FFF is one of few Organizations that take in senior cats, at high risk for euthanasia,  but is committed to providing a those cats with safe, loving homes for their twilight years.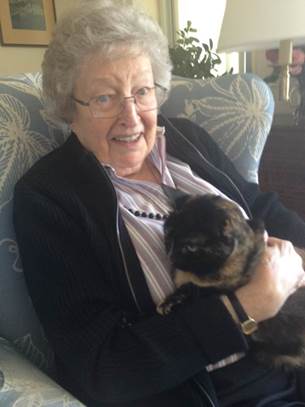 As I and my Petunia face our senior years together now, I urge seniors to enjoy the company and gifts "of a senior kitty ..it is an experience that enriches lives immeasurable for both kitty and person.
P.S. PETUNIA reminds us why senior cats rule…
10 Reasons Senior Cats Rule!

If you are ready to provide a NEW BEGINNING to a needy animal, please take a moment and look though our Adoptable Critters.

Also, you can browse through our gallery of adopted friends on PetFinder.com's Happy Tails. We hope that the stories from our Adoptees will inspire you to open your home and heart and become a "Friend of the Formerly Friendless!"
Here are a few of our recent Happy Tails:
Cookie, Spike, Ears, Garfunkle, Mary Hartman, Precious, Maizie