New Beginnings
We, at FFF, strive to connect our "formerly friendless critters" with responsible, loving and caring homes. When someone adopts one of our "formerly friendless animals", it brings us great joy. In celebration of those who have found loving and forever homes, we would like to share their stories of their "New Beginnings".
A NEW BEGINNING...
Toby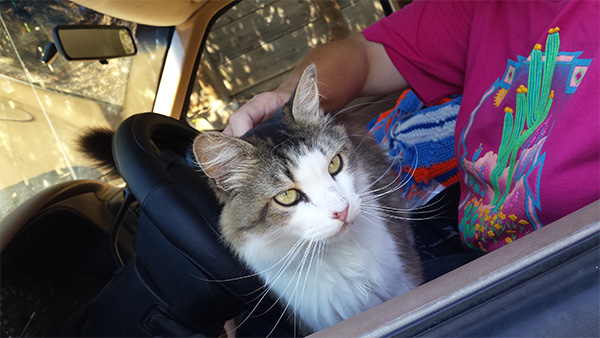 Toby Two-Step, a very sweet and beautiful long-haired kitty, adopted by my housemate several years ago. We had fixed all her other cats and ours, but we were struggling financially and could not afford getting Toby fixed. My dear friend Marlene was involved in TNR (trap-neuter-return) so she was able to advise me to contact Sally, with "Petunia's Project", who might be able to help. Thanks to Sally, we were able to have Toby neutered! He was also chipped so he can find his way home if he should get lost. What a great blessing Petunia's Project is!
Just recently, my husband and I were blessed to meet Sally and Petunia at PetSmart in Martinez! It was a joy to visit Sally and thank her once again for taking care of Toby! Petunia, a real sweetheart, completely captured my heart.
TNR works...I know. I found a cat colony when we lived in Florida, trapped and fixed all the cats, and fed the colony until we moved, at which time I found a friend who took over feeding the cats for me. 
Two years later, she told me she had never seen a single new cat or kitten in our colony!
Thanks again, Sally, and Petunia, for helping us with Toby, and for all you do to help the cats and the community! We appreciate you!
Love, 
Martha Bolig 
If you are ready to provide a NEW BEGINNING to a needy animal, please take a moment and look though our Adoptable Critters.

Also, you can browse through our gallery of adopted friends on PetFinder.com's Happy Tails. We hope that the stories from our Adoptees will inspire you to open your home and heart and become a "Friend of the Formerly Friendless!"