New Beginnings
We, at FFF, strive to connect our "formerly friendless critters" with responsible, loving and caring homes. When someone adopts one of our "formerly friendless animals", it brings us great joy. In celebration of those who have found loving and forever homes, we would like to share their stories of their "New Beginnings".
A NEW BEGINNING...
Son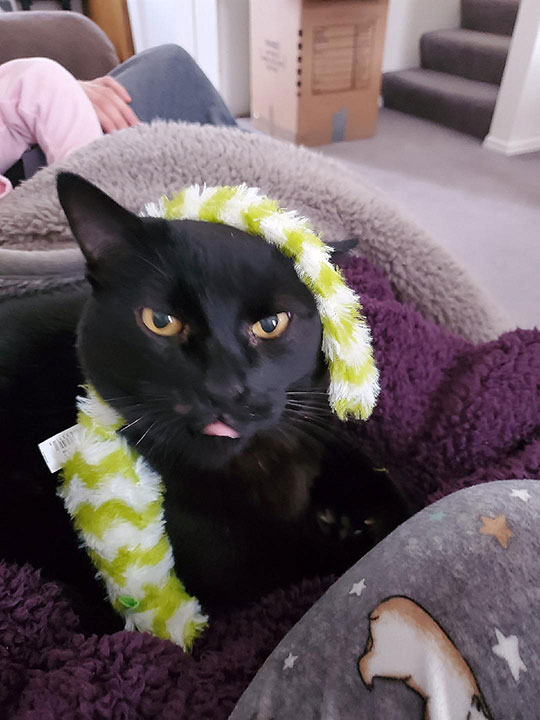 Son, came into FFF from a young man who. had rescued Son from the streets.
As the name indicates, Son became the young man's family and companion. When the young man lost his housing, he faced the heartbreaking decision to find a forever home for his Son. He tearfully brought Son to us.
FFF promised to take in his Son and find a forever home for him ... no matter what it took. Son settled in with the other fosters and found his place in the FFF foster family of cats. His gentle and accommodating manner made him a good member of the FFF foster kitties family. While he was always responsive to people, he was reserved as well.

It was not until FFF hired a new cattery manager that Son began to reveal his true nature. He quickly became a cattery favorite! A bond established with the new cattery manager and got stronger with each passing week.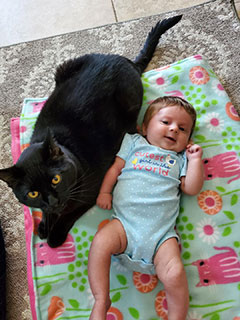 One day, the cattery manager came to the FFF adoption Director and wanted to adopt our Son! We at FFF were ecstatic that Son would have a home! But there was one concern ... the young lady who was our cattery manager had just had a baby! No one knew how Son would react to an infant, a new environment and an indoor only home with no access to his catio?

After his trial visit, we were all in for a happy surprise! Son loved his new home, sleeping in bed with his new people family and has become the baby's dedicated baby sitter and guardian! When the baby cries or is not feeling well, Son lays next to her to comfort her and watch over her!

His loving nature has blossomed and continues to endear himself to his family! This NEW BEGINNING is why we do what we do!

UPDATE: Recently Son and his family relocated to Idaho. He has settled in and will be enjoying his first Christmas in his new home with his family ... and "his baby"!

MERRY CHRISTMAS, Son and family. Wishing you a HAPPY NEW YEAR and many more!
If you are ready to provide a NEW BEGINNING to a needy animal, please take a moment and look though our Adoptable Critters.

Also, you can browse through our gallery of adopted friends on PetFinder.com's Happy Tails. We hope that the stories from our Adoptees will inspire you to open your home and heart and become a "Friend of the Formerly Friendless!"