New Beginnings
We, at FFF, strive to connect our "formerly friendless critters" with responsible, loving and caring homes. When someone adopts one of our "formerly friendless animals", it brings us great joy. In celebration of those who have found loving and forever homes, we would like to share their stories of their "New Beginnings".
A New Beginning for ...
PIRATE!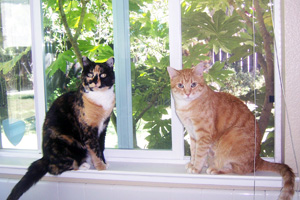 Last summer we wanted to find a "brother" for our calico cat, Lucy, because we had to put our cat, Curly, to sleep because of an incurable condition. Since we wanted a cat with good references we ruled out going to the local shelter or trying to lure a stray wandering down the street into our car. So we decided to look on petfinders.com, the national database of homeless animals -- which is sort of like internet dating but for pets and owners. We entered our criteria: male, orange, tabby, 3 years old, good with other cats and kids and likes long walks on the beach. Oh, okay, I made up the last one.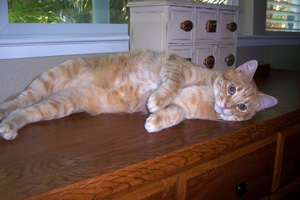 Up came approximately, oh, three bazillion orange cats. Now, we all know that each cat has defining features and a unique personality, but face it, at first glance most orange cats look pretty much the same. So we refined our search to a three mile radius and narrowed it down to a couple of hundred. How would we choose?

We did what any typical internet pet-searcher would do: Read the profiles. After a few days we narrowed it down to two choices: Cookie and Pirate, both fostered by Friends of the Formerly Friendless. Sally gave me a run down of both personalities and we decided Pirate would be the best fit. So we made an appointment for Sally to drop off Pirate for a visit which, I suspect, was to really see if we were suitable enough cat parents for him.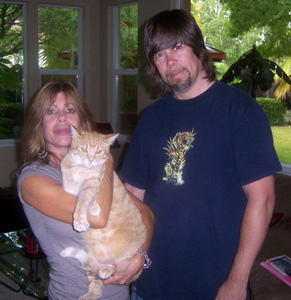 We somehow passed the test, and we've had Pirate ever since. Although I have to say he's nothing like a pirate so we call him "Pie" for short. He's a gentle cat and a joy to have around -- and we are very thankful we got so lucky to find such a wonderful cat. Thanks Sally!

Debbie Farmer-Crouch & Neal Crouch
If you are ready to provide a NEW BEGINNING to a needy animal, please take a moment and look though our Adoptable Critters.

Also, you can browse through our gallery of adopted friends on PetFinder.com's Happy Tails. We hope that the stories from our Adoptees will inspire you to open your home and heart and become a "Friend of the Formerly Friendless!"
Here are a few of our recent Happy Tails:
Cookie, Spike, Ears, Garfunkle, Mary Hartman, Precious, Maizie