MEET MR. WHISKERS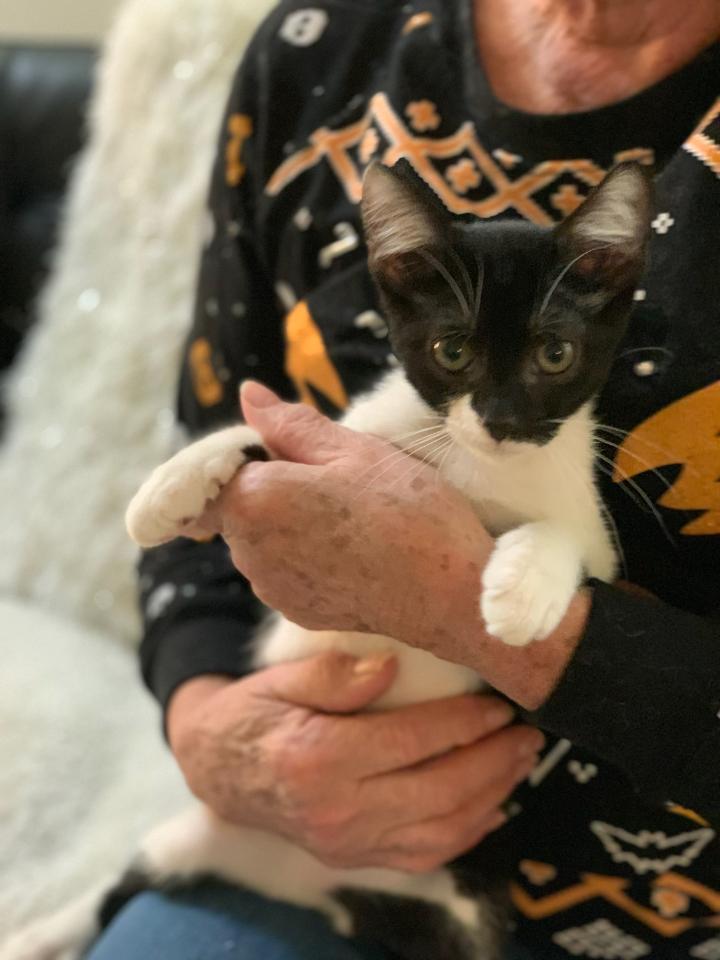 Mr. Whiskers is one of the newest Petunia Trainees being groomed to carry on the FFF tradition of therapy cat. Our FFF visitors in Furs program originated with Petunia and have brought many smiles and kitty love to those we have visited. Petunia, as our kitty therapy cat had visited preschools, nursing homes, hospitals, ill children at home as well as representing FFF at community outreach events and official greeters at our adoption sites.

Mr. Whiskers has some big paws to fill! Mr. Whiskers came into the FFF program as a transfer from our local animal shelter so he entered through our S.O.L. program for kitties at risk.

He shows great promise as he seems fearless and does not mind riding in the car and likes people and attention and has an insatiable curiosity for new things.

These are the important ingredients that have helped make our FFF visitors in Fur program so successful via our Petunia.

* SPAY AND NEUTER SERVICES AVAILABLE:
SNIP PROGRAM
6 Cats Who Are Excited About Thanksgiving
Humans aren't the only ones who enjoy Thanksgiving. Cats can't get enough of the extra food droppings and piles of smelly shoes.
Thanksgiving is here in the U.S., and people across the states are watching football, playing board games, enjoying the company of family and friends, and sitting down to a major chow fest. Humans aren't the only ones who savor the final Thursday in November. Some cats can be super fans of the holiday's offerings. Sure, some kitties hide when company comes over, but there are many who can't wait for the opportunity to snag delicious food, smell glorious footwear, and stretch across board games.
Here are six cats who can't get enough of turkey day.
1. Distraction Cat


Distraction Cat loves Thanksgiving because he knows humans spend a fair amount of time watching parades and football games. This means platters of food are probably sitting unattended. He especially loves it when games go into overtime or there's extra long Broadway parade performances because that means he'll get to snag at least two more deviled eggs or perhaps something delicious from a sausage platter.

2. Grandma Lover Cat

Grandma Lover Cat isn't excited to see all the holiday visitors, but he knows that Grandma always brings treats, so she's a welcome guest. And she brings the good kind — not like the cheap day-to-day stuff he gets from his people. He even allows extra Grandma snuggles because, well, treats. It doesn't mean he'll enjoy all that snuggle time, but he's a polite cat and he does what's required each Thanksgiving because, well, treats. Go, Grandma.

3. Shoe Sniffer Cat

Shoe Sniffer Cat is beyond excited when Thanksgiving rolls around because there's always a giant pile of foreign shoes by the front door, and each pair smells deliciously different from the next. Some kitties love the holiday because of food scraps, but Shoe Sniffer Cat says they can have the giblets and gravy — she has some loafers and kitten heels calling her name. And the wedges Aunt Margaret wore? Those are gonna take most of the afternoon.

4. Sous Chef Cat

Sous Chef Cat loves to "help" with food preparation all year long, but especially on Thanksgiving because humans seem to be in the kitchen all day long on that blessed holiday. Nonstop kitchen time equals more chances of food falling on the floor or left unsupervised. Additionally, Sous Chef Cat is extra eager to help her humans assemble cheese platters and "monitor" the gravy. What? Everyone knows gravy needs a monitor. Don't you have one?

5. Board Game Cat

Many families enjoy playing board games on Thanksgiving. Board Game Cat is no exception. He wants to be a part of the action! There are usually small pieces of things to swat, cards to knock onto the floor, and then there's the board. Board Game Cat thinks the board is the best post-Thanksgiving napping spot ever. The humans don't typically agree, but when it comes to games, cats always win.

6. Table Scrap Cat

Table Scrap cat is in hog heaven on Thanksgiving. Humans are usually generous on that day, and there's a never-ending supply of food: a winning combination! Mostly cats are lucky to land a piece of fallen ham or dinner roll, but on this festival of food, humans actually offer kitties little bites of this and that. Table Scrap Cat feels like she's in a dream and never wants to wake up. Then Friday comes and it's back to fallen food. Why can't every day be Thanksgiving? Life just doesn't seem fair to this kitty.
Article Reprinted from Catster ©