News & In-fur-mation
Click the Donate button above to donate directly

to FFF via Paypal.


Welcome iGive Shoppers!

Donate to FFF While you shop, with AmazonSmile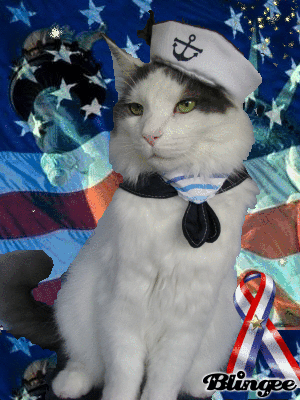 Friends of the Formerly Friendless ...
wishes you, your family and critters
A HAPPY AND SAFE FOURTH OF JULY!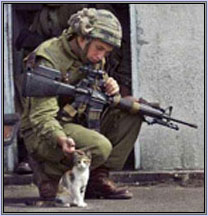 In Celebration of Our Liberty...
FFF is extending a Special Adoption Opportunities
to all of our Armed Services Personnel
for the month of July
in recognition of their service to our Country!
| | | |
| --- | --- | --- |
| | 4th OF JULY REMINDER | |
---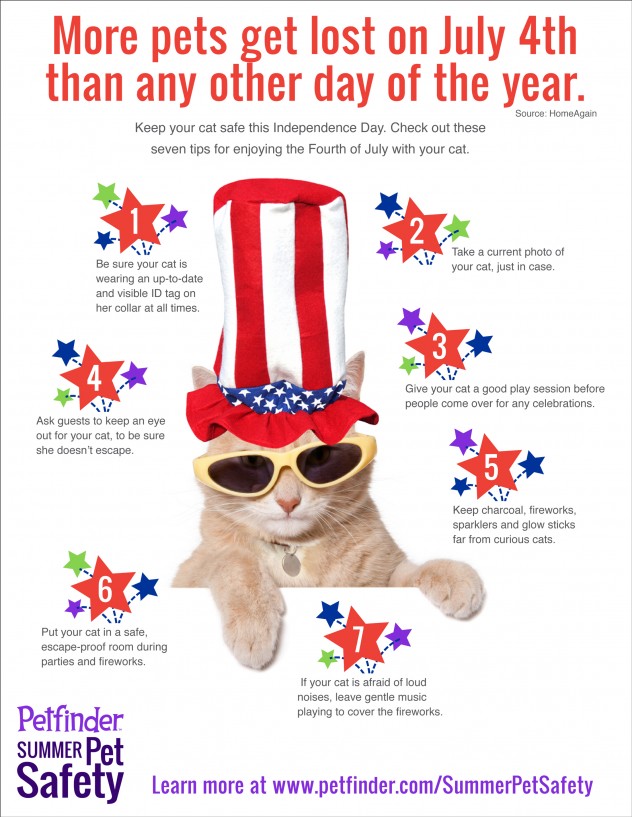 We wish all of our community supporters and visitors a HAPPY AND SAFE FOURTH OF JULY.

We recommend for your peace of mind and the safety of all your pets that you make arrangements to keep them inside and in a comforting place during the Fourth of July festivities.

Unfortunately the Fourth of July has one of the highest incidences of lost pets reported during the year! Pets that normally are "homebodies" and laid back can become frightened and disoriented with the loud and flashing sounds and sights of this holiday.

We recommend that ALL pets be brought inside during the festivities or are boarded in a safe place while you are away. There are always the sad instances where homeowners return to find their pets have escaped, gone missing or worse, have been injured while they are away.

So have a wonderful and celebratory Fourth, and keep it safe for all your furry, feathered and hairy family members.
PATXI'S PIZZA FFF FUNDRAISER,
A PURRFECT EVENT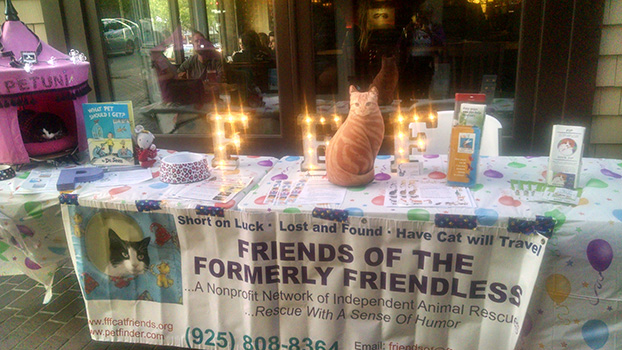 FFF's SECOND ANNUAL PATXI'S PIZZA FUNDRAISER was another opportunity to spread the word about FFF and its Mission.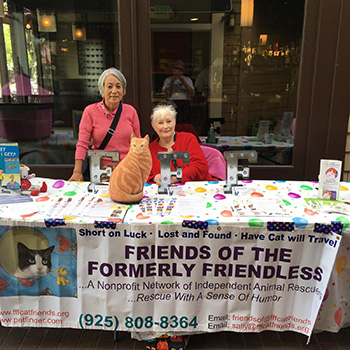 Our FFF logo shone into the night on our information table from 11:00 a.m. until closing, providing information on our FFF Programs and Services, highlighting our S.O.L. Program, Community Education services, Visitors in Furs therapy cat services, our Community Aid Program and our Adoption Program.
Our exceptional FFF fosters, Cathy and Susan, were there also as always to lend their support!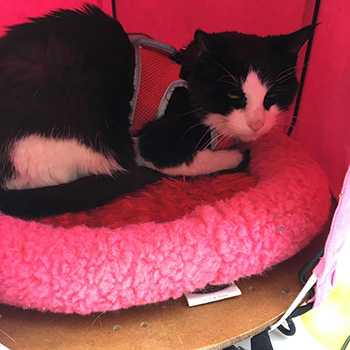 PETUNIA, as always, was on hand to lend a "paw" and make new friends for FFF and "catdom". Despite her age and health issues, she was a "trooper" .... walking the sidewalk and outdoor arcade to greet new people. ...and approving her specially named, "Petunia's Pizza", vegetarian pizza for the event. After her "shift", she retired to her special hot pink kiosk with her lighted "chandelier"to hold court!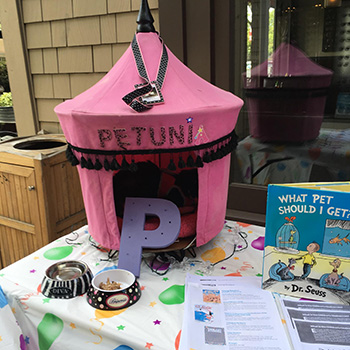 We enjoyed meeting our Community members and hope that our event provided them with important educational information and will bring us many more adoptions of our "formerly friendless felines and critters."
ANNOUNCEMENT...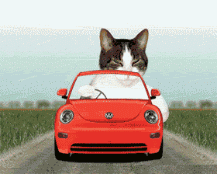 FFF HAS GONE MOBILE!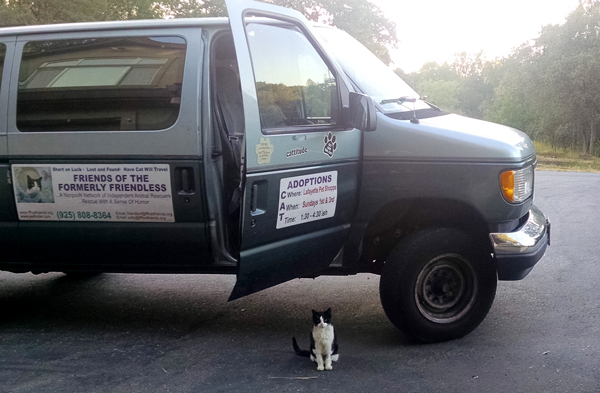 FFF has left the Lafayette Pet Shoppe due to the store's closing.

FFF will continue private showings/appointments through our HAVE CAT WILL TRAVEL PROGRAM to show our "Formerly Friendless Felines" until we can secure another monthly adoption site to be able "meet and meow" with our public.
We will be holding a series of SPECIAL ADOPTION EVENTS.
CONSULT our WEBSITES, fffcatfriends.org and Petfinder.com/Friends of the Formerly Friendless for our future SCHEDULES and LOCATIONS.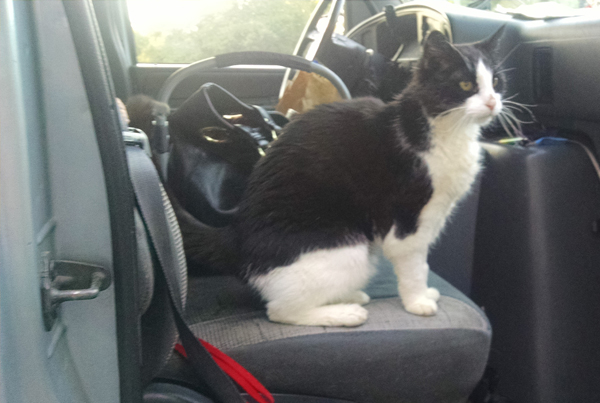 We look forward to seeing you at our new locations.

PETUNIA and I look forward to seeing you.

FFF STAFF
ANNOUNCEMENT...


Friends of the Formerly Friendless is excited to participate in the AmazonSmile Program. Now when you shop at smile.amazon.com, FFF can receive much needed funds to continue our lifesaving rescue work.

FFF will receive .5 percent of purchase amount directly to our FFF account. We feel that it is a win-win proposition for all. WE SHOP... FFF CRITTERS BENEFIT!

NOTE: AS OF APRIL 1ST, 2016, THE SHARES CARD WILL NO LONGER BE NEEDED. TO BENEFIT FFF

OUR SUPPORTERS WILL NEED TO REGISTER WITH E-SCRIP.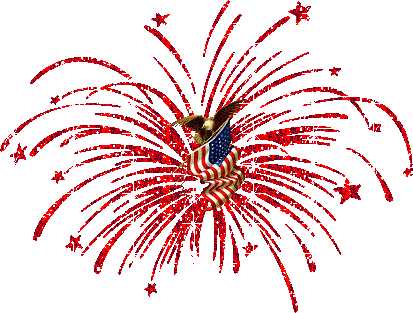 Our Featured Cats...
Kinky
and
Austin
Kinky

Austin

Kinky is a sweet, short-haired, golden, boy with eyes to match. He is a typical ginger tabby--big, friendly, and full of personality. He and his litter-mates were rescued at 3 weeks, and he has been raised in a multi-cat household with lots of playmates.

He would do best in a household with another friendly cat or with a family that would have lots of attention to give him. Kinky is young and active and needs a place where he is welcome to run and climb. He also likes to cuddle, especially at night on a warm bed.

For a closer look at our featured cats, visit their adoption page Kinky Adoption Listing




Our "Downtown" BOSTON AUSTIN is a cool and savvy dude of a kitty! He is a big, lanky, sleek boy with lots of energy and affection to give. He is OK with other non aggressive cats, but he likes to initiate the play. He hates being closed out of the action and will cry until he can be part of the family. He seems to be a nice blend of "dog kitty" and lovable gallump. He likes to plop down and get scratches.

He should make a loving, active boy and great member of any family. Good buddy cat for DAD!

Austin likes to plop down and get scratches. He came from an indoor/outdoor circumstance, so will tend to want to go outside and wander a bit, so he will have to have a safe enclosed outdoor area or be supervised when outdoors.

For a closer look at our featured cats, visit their adoption page Austin Adoption Listing
If you would like to meet any of the animals listed on the FFF or Petfinder sites,
you can contact Sally.




Ages of our cats and kittens are approximate and may reflect the age





at which the cat entered F.F.F.'s Program.
F.F.F. makes every effort to update the ages of our cats periodically.





When inquiring regarding one of our cats, please ask regarding the current age.



JULY ADOPTION DAYS

FFF will be holding special JULY ADOPTION DAYS ON

SATURDAY, JULY 2nd
&
SUNDAY, JULY 3rd

1:00 PM - 4:00 PM


at

RHEEM VALLEY PET SHOPPE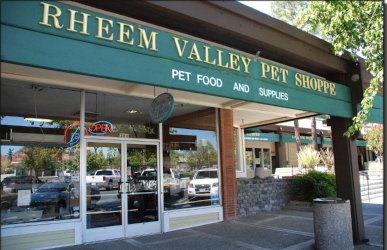 Come join us at the Rheem Valley Pet Shoppe for an Adoption Weekend. The nice people at Rheem Valley Pet Shoppe have invited us to bring our Formerly Friendless Felines to "Meet and Meow" with you, along with our Featured Pet.
F.F.F. Policies
Adopting a Friend
An interview, application and home visit is required, followed by a 5-7 day trial visit of the selected pet in the prospective adoptive home. At the end of the trial period, FFF will evaluate the trial visit and determine the suitability for adoption. If deemed necessary by FFF, a final home visit is required. An Animal Care Adoption Contract is required to be signed by the adopter and a legal FFF representative, upon final FFF approval. The adopter(s) must be of legal age to sign a legal contract.

FFF does NOT allow FFF animals to be given as gifts or adopted for third parties.

FFF would appreciate a contribution to help offset our veterinary costs which include:
Combo test for FeLV and FIV (feline leukemia and feline AIDS)
First FVRCP
Spay or Neuter
Pain medications for recovery
De-worming
Flea control
Microchip
Special circumstance adoptions are available for eligible adopters.
Micro-Chipping
In an effort to provide our F.F.F. graduates, their families, and our dedicated F.F.F. fosters/staff with peace of mind, we have begun micro chipping all of our adoptees. This will provide a safety net for our formerly friendless felines that go on to their new homes.

F.F.F. is listed as the secondary contact in the event that an emergency or unforeseen circumstance causes them to be lost, stolen or strayed. This should make sure that our F.F.F. adoptees will always have a friend if they are in need and always be "formerly friendless".
Appointments
We show our cats by appointments in the evenings during the work week, either at our adoption site, or your home. Appointments can be made with Sally through our HAVE CAT WILL TRAVEL Program. Availability of the cats or kittens for appointment depends on the availability of the foster and transportation arrangements. If you see a cat or kitten you are interested in on our website, contact Sally via our email or by phone to check on the availability of that cat or kitten for evening appointments.
Adoption Criteria
As a rule, F.F.F. does not offer kittens below twelve-to-fourteen weeks of age for adoption. All F.F.F. cats and kittens are combo tested for feline AIDS and feline Leukemia prior to adoption. Our veterinarians have advised us that the testing for these diseases is not accurate or dependable below twelve-to-fourteen weeks of age. Therefore, we will not release any cat or kitten for adoption until we can be assured of an accurate test result.

It is F.F.F.'s philosophy that we will not knowingly adopt any cat or kitten into your home that we wouldn't place in our own homes. We appreciate your understanding.



How and When to Care for and Socialize Feral Kittens
When you come across outdoor kittens, you may feel the need to immediately pick them up and bring them home with you, but that might not be the best thing for the kittens, or for you. Here are some guidelines on how to decide if kittens in a colony should be removed and socialized for adoption, and how to care for them should you choose to remove them and raise or socialize them yourself. You can find more in-depth information by ordering kitten care products from our online marketplace. These guidelines are just that, and they should not be used as a substitute for veterinary care.
In addition to the information below, consider looking into Feral Friends in your area. These are local individuals, organizations, and veterinarians or clinics that may be able to help with hands-on advice, information about borrowing equipment, and veterinarians or clinics that can spay and neuter feral cats. Request a list of Feral Friends in your area.
3. How to Care for Neonatal Kittens
Here are some important tips to keep in mind if you do end up having to care for a neonatal kitten (one- to four-weeks old). Be aware that sometimes, no matter what you do, some neonatal kittens do not survive and can fade very fast. You can only try to be the best surrogate guardian possible, and hope for the best.
Ask for Help: Contact local veterinary clinics and no-kill shelters to ask if they have a nursing mother cat or experienced volunteers available to bottle-feed the kittens. People have had a lot of success having mother cats "adopt" more kittens.


Heat and Bedding: Kittens can easily become chilled and can actually die from chilling within a short time-frame. Be sure that from the moment you find them, the kittens are kept constantly warm. Continually keep an eye out for signs of chilling (i.e., kittens are listless and feel cool to the touch). If you have nothing else on hand, use your own body heat to warm up a cold kitten, and rub gently to aid circulation. It is important to note that kittens cannot control their own body temperature until they are at least three weeks old. Do not bottle feed until kittens have warmed up completely.


At home, provide kittens with a soft nest (like a box or kitty bed) with a heating pad or other warming device. Completely cover it with a blanket or towel, and make sure that kittens can move away from the heat if they want. Change the bedding daily or as needed when accidents occur.


Chilling can occur after a kitten becomes wet. Never submerge kittens in water. If you need to wash them, wash only certain parts or use a moist wash cloth. Be sure to always fully dry them with a hair dryer (on low) and towel.


Food: Never feed kittens cow's milk, this causes diarrhea. Feed only kitten formula, such as KMR, which can be purchased at most pet supply stores. Use kitten bottles to feed, as they are designed specifically with a kitten in mind. If you have an option for nipples, the elongated nipples are easier to use. Follow the directions of the bottle manufacturer for bottle preparation. You may have to make your own holes in the nipple with a sterilized pin or razor; be sure you do this correctly so that the kitten replacement milk drips out slowly when the bottle is turned upside down. Sterilize the bottles before using. Wash your hands before and after each feeding.


If you find yourself with a kitten and no store is open, this emergency kitten formula can be made at home. It should only be used in emergencies, and should not replace kitten formula.



8 oz. can evaporated milk
1 beaten egg yolk
2 TB Karo syrup
Mix all ingredients well and strain. Warm before serving. Keep refrigerated.
From Feline Neonatal Care DVD from the Loudoun SPCA.
Feeding: Hold or place kittens on their stomachs and arch the bottle so less air gets in (do not feed kittens on their backs). Always warm the kitten replacement milk and test it on your wrist to be sure it is warm but not hot. Remember, do not feed chilled kittens.


For kittens 10 days old or younger, feeding should occur every 2 hours around the clock. From age 11 days to 2 1/2 weeks reduce feeding to every 3-4 hours. From 2 1/2 to 4 weeks, feed every 5-6 hours. For kittens 4 weeks and older, feed 2-3 times daily with a wet food/formula mixture. Follow the guidelines on the formula label for how much to feed. Kittens will usually stop nursing when full. Weaning occurs around four to five weeks of age. Mix formula with wet food so kittens can begin to lap it up, or put the mixture in a bottle. Then mix with dry food and begin providing water.


If you are having trouble getting a kitten to "latch" onto the bottle, try pulling on the nipple when they start to suck, this will encourage her to suck harder and latch on. You can also try moving the nipple back and forth in the kitten's mouth. If your kitten is too ill to suck on a bottle, you may have to use other methods such as tube feeding. Consult a veterinarian before attempting this yourself.


After feeding: As long as kittens are eating formula, you must burp them. Put them on your shoulder or on their stomachs and pat them gently until you feel them burp. Kitten formula is sticky, so be sure to clean kittens after feeding with a warm, damp washcloth.


Elimination: Kittens under four weeks must be stimulated in order to go to the bathroom after each feeding. Usually a mother cat would lick her kittens, but you can use a warm, moist cotton ball to gently rub the kittens' anal area to stimulate urination and defecation. Completely solid feces usually will not form while kittens are drinking formula.


Start litter training at four weeks. Kittens may start looking for a place to go as young as 2 1/2 weeks of age. You may supply them with a small, shallow litter pan with non-clumping litter. Do not use paper or fabric; while this is soft, it can teach bad habits they may carry into adulthood! Show kittens the litter box and put in a used cotton ball, and this should do the trick.


Health Concerns: Upper Respiratory Infection (URI): Though this is common in kittens, you should not ignore it. If heavy yellow discharge develops or the kitten has trouble breathing or eating, see a veterinarian immediately. A mild URI can be cleared up by simply wiping away discharge with a warm, wet cloth and keeping kittens in a warm, damp environment.


Fleas: Fleas on a very small kitten can cause anemia. First, pick fleas off with a flea comb. For a bad infestation, you can bathe the kitten in warm water to get rid of fleas. You can also use a very small amount of gentle, liquid dish soaps such as Dawn, to bathe kittens. Avoid the eye area - use a washcloth around the face - and rinse them thoroughly. Do not use flea shampoo or topical flea treatments on kittens 6 weeks or younger. Remember, never submerge kittens fully in water. If giving a bath be careful of chilling - dry kittens thoroughly with a warm towel or hair dryer on low, then place on a heating pad.


Parasites/Diarrhea: Any drastic change in stool consistency can mean trouble. Parasites can often cause diarrhea, strange looking stools, and dehydration. Kittens can begin a deworming treatment schedule as young as 10 days old; see a veterinarian for this. If you notice any unusual signs, your kittens should be seen by a veterinarian.
Article Reprinted from Alley Cat Allies©
•Selling your house?
•Buying a new one?
•Know someone who is?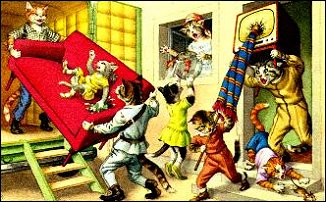 Our pet friendly supporter / Realtor, Bonnie Andrews, has extended a generous offer to FFF referrals! For every FFF referral that results in a finalized contract with her, she will DONATE 10% of her commission to FFF!

A win win situation for all... a dedicated, pet-friendly Realtor, to work with you to meet your needs, and. you can help our FFF Medical Fund that helps needy FFF fosters and community animals. You can contact Bonnie Andrews at:
Bonnie Andrews
Windermere Realty
Email : bonniedanes@windermere.com
Cell Phone: 510-478-8266







S.O.C.K.F.I.P
EVENT...






EXCITING NEWS... PETUNIA and I recently attended the SOCKFIP meeting to receive an update on the battle vs. FIP.

A promising new trial study is now underway at UC Davis Companion Health, to test the effectiveness of antiviral drug(s), that could stop FIP from replicating! The study is a two-year study of 40 selected cats with naturally occurring FIP. The study has begun, and we await, with great excitement and promise, the possibility of DEFEATING FIP...

FIP is the scourge of the 21st Century in the feline world of medicine. A victory against this disease would be a landmark breakthrough that would save and change the lives of countless cats and their families!

As well, a breakthrough in this field could translate to major knowledge and progress in human studies and other corona virus studies!

We fervently support Dr. Niels Pedersen and Dr. Brian Murphy in their quest to defeat one of the most insidious and complex viruses of our time!

VISIT SOCKFIP for ongoing progress and updates on this, and other SOCKFIP News.



S.O.C.K.F.I.P. SEASONAL APPEAL!




SUPPORT FIP RESEARCH  AT UC DAVIS-SOCK FIP!

We are very grateful for your loyal support to 'Save Our Cats and Kittens from Feline Infectious Peritonitis (SOCK FIP) - funding for FIP Research at UC Davis. PLEASE REMEMBER SOCK FIP in your YEAR END GIFTING and MATCHING GIFT PROGRAMS WITH YOUR EMPLOYER I SOCK FIP is matching gift eligible - 501(c)(3) -#27-1523038.


FIP IS NOT A RARE DISEASE: One in 300 cats seen at veterinary institutions in the US die of FIP and hundreds of thousands of cats die globally each year. Dr. Niels Pedersen has devoted much of his renowned career to FIP research. He has published over 50 scientific papers and reviews on FIP alone. All this hard work is paying off, as great strides have been made in the past few years. There is· much to celebrate in 2015 as Dr. Pedersen nears one of the most important studies to date. SOCK FIP is extremely hopeful that Dr. Pedersen is on the path to frontier the first effective and proven treatment specifically for Feline Infectious Peritonitis.
NEXT MONTH: Dr. Pedersen embarks upon one of the most important studies to date - a field trial commences in January 2016 with protease inhibitors that have proven great promise in the Pedersen lab in arresting FIP. Now it is time to prove efficacy in the field with natural FIP cases. Much arduous and difficult research· has taken place to get to this juncture. Yet there are still more milestones and sizable costs related to proving and clearing a drug treatment for market. If the field trails correlate efficacy, the compounds will then progress to a rigorous and very expensive drug approval process.
Your continued support is needed to ensure there is funding to move this process along, until FIP is eradicated. No amount is too small. FIGHT FIP TO THE FINISH!




Together we will SOCK IT TO FIP!

YES! I WOULD LIKE TO MAKE A DONATION TO SOCK FIP RESEARCH!
Please make your check payable to: SOCK FIP and send it to:
SOCKFIP
P.O. Box602
Davis, CA. 95617

OR:

Donate with your Credit Card (Amex, Visa, Mastercard) via PAY PAL – on the SOCKFIP.org website, URL: http://www.sockfip.org/donations and click "Donate" Pay Pal link.
We are humbled and honored to have received the Rescue Award from SimplyCatBreeds.org for recognition of our efforts to provide rescue services to needy "formerly friendless felines". We have shared their commendation below.
We at SimplyCatBreeds.org are pleased to present you with a Cat Rescue Award for excellence in helping needy cats who just need a warm home and some love. We take pride in acknowledging the best organizations around the country with our special award emblem, recognizing them for their outstanding work - Friends of the Formerly Friendless is absolutely an organization we place among those that need recognition.

Thank you for all the work you and your organization provides for cats in need. We know exactly how difficult and thankless a task it can be, so we hope this little token helps even a little bit.
While we are honored to have received this recognition, our work and story would not be possible without our dedicated and hard working, fosters, community support, compassionate veterinarians and excellent web master/website designer. We will display the award medallion proudly on our websites in recognition of all their efforts to help Friends of the Formerly Friendless in their Rescue mission.