News & In-fur-mation
F.F.F. EVENT...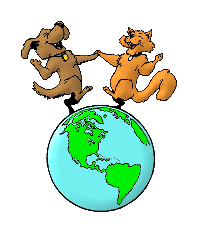 COME visit Friends of the Formerly Friendless and celebrate EARTH DAY, SUNDAY, APRIL 27, 2014 at the Lafayette Library. FFF will be there at the Pet Fair booth sponsored by the Girl Scout troop 31647 to benefit FFF's Community Aid Program.
Donations of cat food, clean cat bedding, carriers and toys will be greatly appreciated by our "formerly friendless felines"fosters and Community Aid recipients.
FFF is glad to support the efforts to protect our environment and with a special focus on water conservation . FFF shares the belief that we are stewards of this earth and its flora and fauna...including our stray, unwanted and at risk feline populations in our cities and counties. FFF believes that ...ANIMALS...it is THEIR WORLD, TOO!
Petunia, our feline ambassador, and I look forward to seeing you at the Pet Fair Booth!
9th Annual Earth Day Festival
Lafayette Library & Learning Center
3491 Mt. Diablo Blvd
Lafayette, Ca 94549
Sunday, April 27th, 11am - 3pm
Or Visit:
http://www.sustainablelafayette.org


F.F.F. Easter Announcements
EASTER MESSAGE
They are CUTE! ... BUT are you ready for a bunny?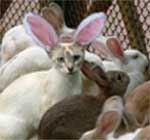 All too often well intentioned people adopt bunnies ..especially at EASTER.. as gifts or playmates for children. Alas, when the novelty wears off, the bunnies are too often dumped at our local Shelters, let loose to fend for themselves or worse, injured or killed by dogs and/or other predators.

F.F.F. would love to adopt some of our bunnies to you when you think you are ready. We are fortunate to have an expert "bunny person" to answer all your questions and advise you on the best way to introduce a bunny into your home, to other pets and to your children.

As for bunnies at EASTER.... or as gifts, instead, consider fostering or donating to a local Rabbit Rescue/Shelter or.... we prefer to


M A K E ... M I N E ... C H O C O L A T E
In keeping with the season, Petunia and I will have on "paw" a variety of Easter candy favorites...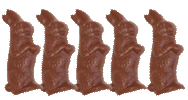 Including chocolate bunnies! Our snacks of chocolates and candies are for people.
Please keep them away from cats/pets as they are TOXIC!
FFF Adoptions will be CLOSED EASTER SUNDAY.
If you see an F.F.F. cat/kitten that you are interested in, contact Sally via email and/or phone to see if an evening appointment is available for showing that cat/kitten.
Petunia and I wish you and yours a safe and wonderful EASTER.
Sally and Petunia
***** EASTER ALERT *****
Easter Lilies (along with many other plants), Plastic Easter Grass,
Candies and Chocolate are TOXIC to cats.
Please keep these where your cat/pet can not get them!
For a list of plants toxic to cats, please visit
The Cat Fancier's Association website.
ALL OF US AT F.F.F., STAFF and FELINES, wish you and yours a restful and HAPPY EASTER.
| | | |
| --- | --- | --- |
| | | |
F. F. F. has enrolled in the SAVE MART S.H.A.R.E.S. PROGRAM !

(Supporting Humanities, Arts, Recreation, Education, Sports)
HOW DOES IT WORK ?
With a swipe of each S.H.A.R.E.S. card issued at any participating supermarket , a portion of the qualified purchases will automatically be donated to FFF in the form of S.H.A.R.E.S. points.
The more points FFF earns, the more FFF earns.! Up to 3% of the qualified purchases made is credited to FFF's account with each swipe.
* (Some exclusions apply; purchases not eligible for points are: postage,gift cards, event tickets, ticket master,BART, lotto, fuel, check cashing fees, liquor discounts , charity icon sales, sales tax. S.H.A.R.E.S. cards cannot be combined with other discount cards i.e. gas cards.)
WHERE CAN I GET MY S.H.A.R.E.S CARD..?
Just contact FFF and we can issue your S.H.A.R.E.S card .....FREE.
There is NO registering of your personal information, credit card,etc
You can start using your card immediately at the participating stores...
SAVE MART , LUCKY, FOOD MAXX..
We will distribute cards at our adoption site on our adoption days...the FIRST and THIRD SUNDAYS at Lafayette Pet Shoppe AND/OR we issue them to you via the mail.
CONTACT Sally at (925) 808-8364.
P.S. Save your shopping bag, your cat will love you for it! Free instant cat toy!
•Selling your house?
•Buying a new one?
•Know someone who is?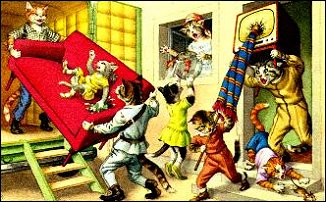 Our pet friendly supporter / realtor, Bonnie Andrews, has extended a generous offer to FFF referrals! For every FFF referral that results in a finalized contract with her, she will DONATE 10% of her commission to FFF!

A win win situation for all....a dedicated, petfriendly realtor, to work with you to meet your needs, and. you can help our FFF Medical Fund that helps needy FFF fosters and community animals. You can contact Bonnie Andrews at:
Bonnie Andrews
Windermere Realty
Email : bonniedanes@windermere.com
Cell Phone: 510-478-8266


We are humbled and honored to have received the Rescue Award from SimplyCatBreeds.org for recognition of our efforts to provide rescue services to needy "formerly friendless felines". We have shared their commendation below.
We at SimplyCatBreeds.org are pleased to present you with a Cat Rescue Award for excellence in helping needy cats who just need a warm home and some love. We take pride in acknowledging the best organizations around the country with our special award emblem, recognizing them for their outstanding work - Friends of the Formerly Friendless is absolutely an organization we place among those that need recognition.

Thank you for all the work you and your organization provides for cats in need. We know exactly how difficult and thankless a task it can be, so we hope this little token helps even a little bit.
While we are honored to have received this recognition, our work and story would not be possible without our dedicated and hard working, fosters, community support, compassionate veterinarians and excellent web master/website designer. We will display the award medallion proudly on our websites in recognition of all their efforts to help Friends of the Formerly Friendless in their Rescue mission.