News & In-fur-mation
Thanksgiving Message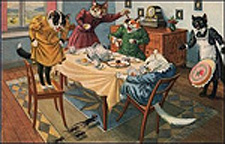 "At this time of year, we stop to celebrate our good fortune, family and friends. It is a time to be thankful for what we have...to share with good friends and family...both "people" and "critter" family. We at FFF want to take this time to extend our best wishes to you, our supporters and friends, and our sincere thanks for your support and friendship throughout the year. Without the support and care of our wonderful and dedicated veterinarians, Mike Evans and the staff at Animal Care Clinic, Dr. Pat Wehren, our adoption site - Lafayette Pet Shoppe, and the numerous other community businesses such as Driving Specialists, M. Ryan who keeps our adoption van running and California Signs and Graphics for our graphics and advertising. A very special thanks again this year to Caroline Allsbrook and the pet-friendly staff at the John Muir Best Western Inn in Martinez for being an on going friend and supporter and being a pioneer in bringing a pet friendly philosophy to the Martinez John Muir Inn which provides a pet friendly atmosphere to travelers with pets..

We want to sincerely thank our web-tenders: Petfinder.com, Airtight Internet Services, Sean Kleen and Jim Fischer. Without their invaluable help...this screen would be blank ... literally!

It is also that time of year for me to ponder how far FFF has come from hand-lettered poster signs, portable tables and folding cages, hand-drawn graphics and initially, no web presence at all! With the help of dedicated people who shared my vision, FFF evolved into a community resource and all of those who helped it happen should take pride in knowing their contribution made a difference. Last, but not least, a sincere thanks to all of our loyal supporters, fosters, and adopters who, year after year, support us in our adoption and fundraising efforts. Thanks, Cathy, Karin & Bret, Kathie, Claudia, Paula, Sheila, Trish, Terry, Valerie, Susan, Caroline, Danielle & Dale, Kevin & Kathleen, Mary, Hank & Patty, and all those who regularly visit us to lend moral support and share their love with our foster kitties at Sunday adoptions.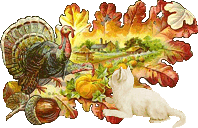 Thanksgiving is a time of reflection and memories.
For me, I am full of memories and thankful for the myriad of furry faces that have shared my life and became members of the FFF family.
Each and every one brought love, laughter and life's lessons to my life and to all whose lives were touched by them. Some have gone to the Rainbow Bridge to await reunion, many were adopted to loving, stable and forever homes, and some remain with us until a home can be found but still experience the security of knowing they are loved and will always be taken care of by those who love them. I truly am very fortunate to have shared and continue to share my life with committed people who foster our furry charges, and with the furry faces that still greet me at my door.

I give special thanks for having the love and trust of my beloved , Petunia with all the comedy , love and lessons she has taught me.

May each and every one of you know the gift of trust and unconditional love that a beloved animal family member can bring.

This has beeen a difficult year for many and FFF is no exception. To those who have helped us weather the storm, we greatly appreciate it. Honorable mention to Corey and Michael for their advocacy for FFF and myself in helping us to continue to pursue our mission of Rescue.

Finally, to my long suffering husband, Charlie, AKA Santa, for sharing his life and home with me and a myriad of kitties coming and going, a heartfelt purr and thank you.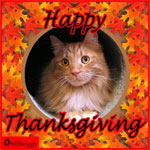 We at FFF, both feline and people, wish you and yours, people and critters, a Happy and Restful Thanksgiving ... and a joyous Holiday.
Sally,
P. S. Petunia sends her "purrs" and wishes, too.
•Selling your house?
•Buying a new one?
•Know someone who is?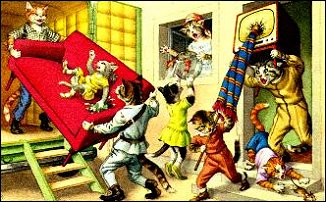 Our pet friendly supporter / realtor, Bonnie Andrews, has extended a generous offer to FFF referrals! For every FFF referral that results in a finalized contract with her, she will DONATE 10% of her commission to FFF!

A win win situation for all....a dedicated, petfriendly realtor, to work with you to meet your needs, and. you can help our FFF Medical Fund that helps needy FFF fosters and community animals. You can contact Bonnie Andrews at:
Bonnie Andrews
Windermere Realty
Email : bonniedanes@windermere.com
Cell Phone: 510-478-8266


We are humbled and honored to have received the Rescue Award from SimplyCatBreeds.org for recognition of our efforts to provide rescue services to needy "formerly friendless felines". We have shared their commendation below.
We at SimplyCatBreeds.org are pleased to present you with a Cat Rescue Award for excellence in helping needy cats who just need a warm home and some love. We take pride in acknowledging the best organizations around the country with our special award emblem, recognizing them for their outstanding work - Friends of the Formerly Friendless is absolutely an organization we place among those that need recognition.

Thank you for all the work you and your organization provides for cats in need. We know exactly how difficult and thankless a task it can be, so we hope this little token helps even a little bit.
While we are honored to have received this recognition, our work and story would not be possible without our dedicated and hard working, fosters, community support, compassionate veterinarians and excellent web master/website designer. We will display the award medallion proudly on our websites in recognition of all their efforts to help Friends of the Formerly Friendless in their Rescue mission.