News & In-fur-mation
| | | |
| --- | --- | --- |
| | | |
 F. F. F. has enrolled in the SAVE MART S.H.A.R.E.S. PROGRAM !
HOW DOES IT WORK ?
   With a swipe of each S.H.A.R.E.S. card issued at any participating supermarket, a portion of the qualified purchases will automatically be donated to FFF in the form of S.H.A.R.E.S. points. The more  points FFF earns, the  more FFF earns.! Up to 3% of the qualified purchases made is credited to FFF's account with each swipe. 
*    (Some exclusions apply; purchases not eligible for points are: postage,gift cards, event tickets, ticket master,BART, lotto,  fuel, check cashing fees, liquor discounts , charity icon sales, sales tax.)
WHERE CAN I GET MY S.H.A.R.E.S CARD..?
Just contact FFF and we can issue your S.H.A.R.E.S card .....FREE!.
      There is NO registering of your personal information, credit card, etc...
You can start using your card immediately at the participating stores...
SAVE MART , LUCKY, FOOD MAXX.

We will distribute cards at our adoption site on our adoption days...the FIRST and THIRD SUNDAYS at Lafayette Pet Shoppe  AND/OR we can issue them to you via the mail. 
CONTACT Sally at (925) 808-8364.
FFF VALENTINE MESSAGE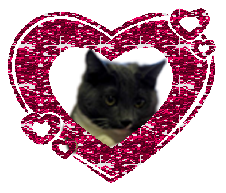 Once again we celebrate Valentine's Day and those we love and hold dear. We celebrate and recognize that LOVE comes in all shapes and sizes. If you are considering adding a new feline member to your, we will be glad to introduce you to our wonderful, "formerly friendless" feline friends. There is truly no substitute for the unconditional love the right loving kitty can bring to you and to your home. As with human relationships, matching the right kitty that will bond with you and your home, takes time and thought. For that reason, we do not encourage giving cats or pets for gifts. Rather we would encourage you to contact us to come and meet with the kitty(s) of your choice. Since this is one of the rare times in your life that you can choose your "family member(s)"! We are glad to help find just the right "match" for you and yours.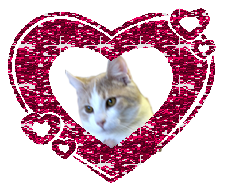 During this time of the year, we also want to take this opportunity to remind everyone that CHOCOLATE, and other edible and FLORAL tokens of Love, can be FATAL to pets. During this time of year, the danger of poisonings, especially by chocolate, is very high. Please make sure that all edible gifts and flowers are out of reach so that the LOVE they express does not turn into a tragedy.

WE would like to invite you to BRING YOUR SWEETHEART(S) to meet OUR SWEETHEARTS this VALENTINES' DAY WEEKEND. We will be there SUNDAY, FEBRUARY 16, 2014 at Lafayette Pet Shoppe, 1:30- 4:30. Drop by and meet our "sweeties" and grab a valentine snack, compliments of FFF and Petunia.
Sally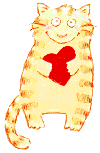 Our Featured ...
Sweethearts
Bekki, Whiskers & William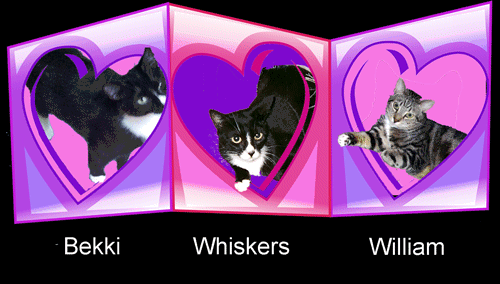 Bring Your Sweethearts
To Meet Our Sweetheats!
Bekki is a spayed, black and white tuxedo, female approximately 3 years old. Unfortunately, she is a one of many victims of animal abandonment. She was left behind in a local neighborhood. A concerned neighbor contacted FFFand we took her into our adoption program. Bekki begrudgingly tolerates other cats but is very people oriented and would do best as an only cat and someone's darling. She is hungry for affection and just blooms with human attention. She is a very melancholy girl seeking a loving, forever home.
Whiskers is a male, domestic short hair, Tuxedo cat.
He is a character that's very active, affectionate, yet independent. He loves to give kisses ... on the lips! He is a true "Don Juan" of the feline world! Whiskers also loves to nuzzle people.
He would be best with another active kitten or young-at-heart adult cat. He could be an only cat if given LOTS of attention and affection. If not, he will grab you around your knees and detain you until you love on him.
He seems to be OK with children or adults.
William is a beautiful, curious and friendly boy. His beautiful patterning on his coat looks similar to a reticulated tabby. He is shy at first, and tries to "complain" with an initial hiss until he gets to know you ... then he is all over you. In a familiar surrounding with trusted people, he is a lover ... loves to be right in the thick of what you are doing and "sidewalk supervising".
If you would like to meet William, let us know. We can arrange a private showing and/or schedule a Sunday to bring him to adoptions.
If you would like to meet any of the animals listed on the FFF or Petfinder sites,
you can contact Sally.
•Selling your house?
•Buying a new one?
•Know someone who is?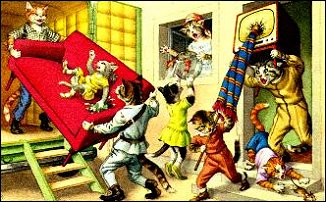 Our pet friendly supporter / realtor, Bonnie Andrews, has extended a generous offer to FFF referrals! For every FFF referral that results in a finalized contract with her, she will DONATE 10% of her commission to FFF!

A win win situation for all....a dedicated, petfriendly realtor, to work with you to meet your needs, and. you can help our FFF Medical Fund that helps needy FFF fosters and community animals. You can contact Bonnie Andrews at:
Bonnie Andrews
Windermere Realty
Email : bonniedanes@windermere.com
Cell Phone: 510-478-8266


We are humbled and honored to have received the Rescue Award from SimplyCatBreeds.org for recognition of our efforts to provide rescue services to needy "formerly friendless felines". We have shared their commendation below.
We at SimplyCatBreeds.org are pleased to present you with a Cat Rescue Award for excellence in helping needy cats who just need a warm home and some love. We take pride in acknowledging the best organizations around the country with our special award emblem, recognizing them for their outstanding work - Friends of the Formerly Friendless is absolutely an organization we place among those that need recognition.

Thank you for all the work you and your organization provides for cats in need. We know exactly how difficult and thankless a task it can be, so we hope this little token helps even a little bit.
While we are honored to have received this recognition, our work and story would not be possible without our dedicated and hard working, fosters, community support, compassionate veterinarians and excellent web master/website designer. We will display the award medallion proudly on our websites in recognition of all their efforts to help Friends of the Formerly Friendless in their Rescue mission.