Short On Luck (S.O.L.)

...is an emergency foster program for at risk cats and critters.

...working in cooperation with community rescue groups and Animal Services Departments.
A new phase of the Short on Luck Program was launched in January of 2004. The Safe Place component of the S. O. L. is being developed to provide a temporarily safe place for cats that are caught up in a domestic violence situation and/or at risk of violence from their environment. The concept is to provide a temporary sanctuary through a network of emergency foster homes.

We hope to work cooperatively with local law enforcement, Animal Services and battered women's organizations. If you would like to participate in this new and unique program, please contact us via our website or at (925) 808-8364.

If you would like to provide T.L.C. and shelter for a needy cat...Contact: Sally - (925) 808-8364 FriendsOf@fffcatfriends.org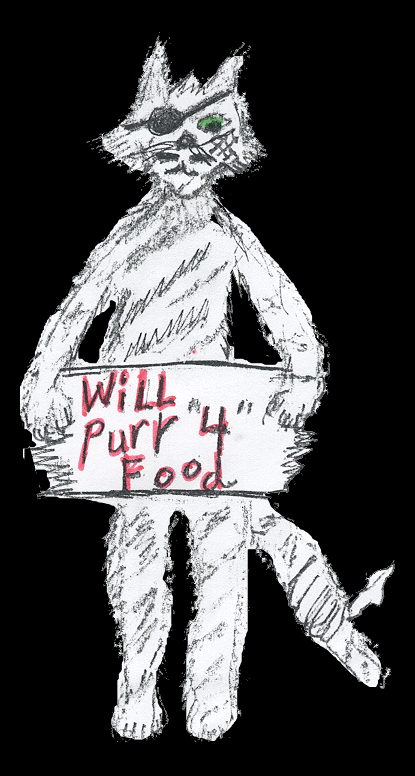 S.O.L. RESCUE!
It began with a phone call...
A kind, concerned neighbor had been feeding a friendly but distressed kitty who had been crying incessantly to be let inside. She discovered that the small, tuxedo kitty had been abandoned by her person who moved away and left her in the back yard to fend for herself... or starve! The kind neighbor could only remember the owner vaguely as "Becky" but had no idea about her last name or whereabouts.
Although already "FULL", FFF couldn't leave this puss to starve or be at the mercy of chance. FFF arranged to receive this puss, named by the neighbor as "BEKKI" and get assessed and recovered by our vet, Dr. Evans.
Bekki proved to be wary, growly and very defensive around other cats. Her level of trust with people, as might be expected,
was shaken and it left her alternatively wanting affection but wary.
Through the following months, Bekki had to learn to adjust to friendly other foster cats and to trust us " people " again. She developed an affinity to her predominant care giver, Charlie, sidling up to him when possible in the cattery and growling at interloper fosters who interrupted her time with Charlie.
Gradually, Bekki adjusted to life in the cattery and enjoyed the catio. But there remained a melancholiness about her... as if she were waiting for someone.

One day, FFF received an email inquiry about our Bekki, whose story and picture had touched their heart.
FFF was overjoyed to meet the wonderful couple who having mourned the loss of a beloved tuxedo fellow, were ready to open their hearts to another.
The match was perfect! Bekki, now given the beautiful name, McKenzie, in memory of a dear friend, is blissfully happy with her new persons!
From the latest reports, Mc Kenzie has stolen their and families' hearts and runs the show!
We wish McKenzie and her new kitty Mom, Melissa and Dad, Ron, many wonderful and happy years together.  It brings a smile to my face and tear to my eye to see such a match.
It is New Beginnings like these that keep us at FFF going and renew our faith in the good people in our Communities.