Short On Luck (S.O.L.)

...is an emergency foster program for at risk cats and critters.

...working in cooperation with community rescue groups and Animal Services Departments.
A new phase of the Short on Luck Program was launched in January of 2004. The Safe Place component of the S. O. L. is being developed to provide a temporarily safe place for cats that are caught up in a domestic violence situation and/or at risk of violence from their environment. The concept is to provide a temporary sanctuary through a network of emergency foster homes.

We hope to work cooperatively with local law enforcement, Animal Services and battered women's organizations. If you would like to participate in this new and unique program, please contact us via our website or at (925) 808-8364.

If you would like to provide T.L.C. and shelter for a needy cat...Contact: Sally - (925) 808-8364 FriendsOf@fffcatfriends.org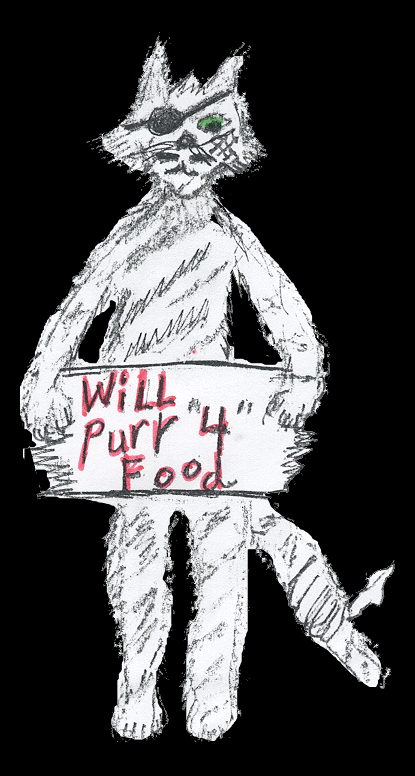 S.O.L. RESCUE!
LUCY'S' odyssey began sadly... being abandoned in a box in front of a vet's office with her front leg in a bandage, by her owner with a note that read "I can't care for her anymore".
Luckily before this uncaring vet could call the local Shelter to come pick her up, his office staff prevailed upon him to give them a few days to find someone to take her, knowing that with an injury and her advanced age, she probably would never make it out of the Shelter!
FFF received a frantic appeal to help through one of our fosters. How could we say no!? FFF scrambled to find an emergency foster for this tiny, disabled, senior Chihuahua, ...since we usually foster solely cats!?
Luckily, one of compassionate fosters offered to provide emergency foster services.! We decided to name her Lucy, after the compassionate vet employee that saved her from being summarily dumped at the local " Shelter".
Our FFF vet, Dr. Mike Evans, determined that her front leg, wrapped in a worn bandage, had been most likely broken in three places and had not been given any vet care for a quite some time!
Her shoulder had so atrophied that her leg was useless and made it hard for her to walk. Despite Dr. Evans excellence in orthopedic surgery, we made the sad decision that the damaged, disabled leg had to be removed!
LUCY handled it like a trooper!
Her mobility improved and she slowly began to feel like she was wanted again.
LUCY was transferred to a transitional FFF foster home where she held her own with a group of bewildered foster cats who thought they were living with a rodent for the first few days! LUCY was probably half the size of even the youngest foster kitten! But though "she be small, she is mighty"! LUCY climbed right onto the couch with her feline fellow fosters and claimed her space!
She quickly became a favorite of the foster and her husband, who loved to carry her around and let her sit on his rather rotund stomach and watch TV!
One day an email arrived in the FFF mailbox from a senior woman looking for a companion cat for herself and her cat, Hugo as she was recently widowed. After a few moments, the FFF foster asked the woman if she had ever considered a small dog? Since she wanted a companion that would help her get out of the house and encourage her to overcome her anxiety and medical issues, a small dog might be the best, "cat" for the job!
LUCY was introduced to the senior lady, Pat, and it was love at first sight!
LUCY now lives with her cat brother, Hugo, who is still negotiating with LUCY for, "mom's lap time", but both are settling in.
LUCY's Mom keeps in touch with FFF and informed us that LUCY is now an official emotional support dog!
LUCY has already challenged her new Mom to walk around the full circle of the mobile home park where she lives! She now has her own little yard so she can read her "pee mail" if Mom isn't up to a full walk. Soon she will ride in her new booster seat as emotional support as her Mom gets back out into the world!
This is truly a magical match that was destined to be!
We wish little LUCY and her Mom a long, happy and adventurous life together! Her story is an inspiration to all of us ...and a poignant reminder of why we do what we do ...RESCUE, LOVE AND REHOME!
FFF wishes Lucy a long and happy New Beginning with her new Mom. It is New Beginnings like this that keep FFF hopeful and committed to finding wonderful new homes for all of our "Formerly Friendless Critters"...