Services & Programs
F.F.F. Programs and Services



FRIENDS OF THE FORMERLY FRIENDLESS is embarking upon a new and unique part of its Mobile Adoptions Program (M.A.P.) ... HAVE CAT WILL TRAVEL.

This unique program expands the opportunities for adopters to meet and get acquainted with cats/kittens that they see on our websites and/or adoption site(s) in the privacy of their own homes. Since most of us these days live increasingly mobile lives, it made sense for FFF to become more mobile to provide opportunities to meet and get to know our "formerly friendless felines". What better place than in the prospective home where they might live!

This unique opportunity gives FFF and the prospective adopter the benefit of seeing the potential new, furry, family member in their "home environment".

HERE'S HOW IT WORKS...

Beginning May 17, 2010, FFF will begin making appointments for this new service by contacting SALLY at 925 808-8364 or friendsof@fffcatfriends.org.
A prior interview is required to mutually select the best match for the living situation, client's preferences and prospective cat/kittens' personality and needs. FFF will then bring up to two cats/kittens for selection and a "home visit" to the prospective home. Then a kitty "trial sleepover" is usually scheduled for 5-7 days, after which it will be determined by the client & FFF to proceed with adoption or to make another selection. All FFF cats/kittens are spayed/neutered, current on their vaccines and have been combo tested. All FFF cats/kittens on "trial sleepovers" will need to be kept inside ONLY for safety purposes. For the health of all, resident cats in the prospective homes will need to be current on vaccinations and tested also prior to the "trial sleepover".

If it is preferred, FFF can make an individual appointment at one of our "get acquainted" sites either in Lafayette, or El Sobrante. Cats/kittens selected at our "get acquainted" site(s) will then be scheduled for their "home visit" and "trial sleepover" by mutual agreement. Afternoon and evening appointments are available during the week by contacting SALLY.

If a larger selection of cats/kittens is requested, we would invite prospective adopters to visit our scheduled adoption site at the Lafayette Pet Shoppe, 3517 Mount Diablo Boulevard, Lafayette. We will be holding adoptions EVERY FIRST & THIRD SUNDAY at that site, unless otherwise indicated.

We look forward to meeting you and helping you find that new, furry, feline family member(s) that melts your heart!

Hope to meet you soon.




Sally and Petunia



Visitor(s) In Fur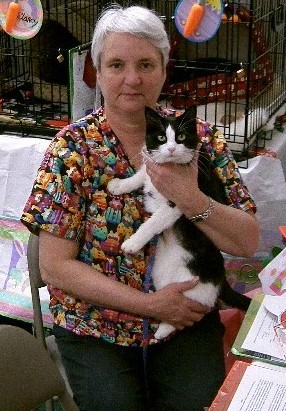 Sally, founder of F.F.F., with her cat, Petunia.

Petunia helps with humane education in schools and serves as a therapy kitty in the Visitor(s) In Fur Program

Petunia is also an official staff member, holding the title of cat liaison.
As any animal lover can attest to, the unconditional love that an animal can give provides a unique type of therapy and support that "modern medicine" is only just now learning. At its inception, F.F.F. has been committed to helping provide this type of unique therapy and support to those in need via our "therapy cat", Petunia. Petunia has been visiting home and hospital students, Alzheimer's homes, nursing homes, schools and preschools, FREE of charge as part of F.F.F.'s commitment to Community Service since the inception of F.F.F. in 2001.

If you know someone or a facility that could benefit from a "Visitor(s) in Fur", please contact us. We usually conduct a preliminary visit to plan for the best possible introduction experience. Our "visitor(s) in fur" are current on their vaccines, have been combo tested for feline AIDS and Leukemia, temperament tested, and have current flea control. They are not declawed.

Appointments for Petunia's visits can be booked through our VISITOR(S) IN FUR Program by contacting SALLY via phone at 925 808-8364 OR email sally@F.F.F.catfriends.org, type in VISITOR(S) IN FUR in the subject line. Please make sure that you leave a contact person's name and phone number.

F.F.F. is continuing to expand this Program by inducting more "visitor(s) in fur" ambassadors. We have at least one other "cat in training" that was rescued from euthanasia from a "high kill" Shelter. You can meet our "ambassadors in training" periodically at our adoption site, at LAFAYETTE PET SHOPPE, between the hours of 1:30 - 4:30.
Sally and Petunia

FELINE INFECTIOUS PERITONITIS
F. I. P.
The worst three letters a cat-lover could ever hear.
FRIENDS OF THE FORMERLY FRIENDLESS is proud and excited to be a founding member of the new S.O.C.K. FIP research project. S.O.C. K. is the acronym for Save Our Cats and Kittens. SOCKFIP is a group of cat-lovers, breeders, rescuers, shelters and vets working together to generate essential funding for FIP research at the UC Davis Center for Companion Animal Health. Virtually 100% fatal, FIP strikes 1 in 100 of all cats. We know that most cats acquire the FIP virus early in life, though actual disease signs may not occur until weeks, months or even years later.

Right now, there's no prevention and no cure for FIP. It's time to change all that - and it can be done! Through the very exciting and promising work at UC Davis, we hope to learn how to prevent FIP or find suitable treatments, and spare future generations of cats and cat-lovers this nightmare. Because very little government funding is available for companion animal studies, we are relying on the vast community of cat-lovers to help.
SUPPORT FIP RESEARCH AND SOCK IT TO FIP!
CHECK

Payable to:
UC Regents
Memo:
FIP research
Mail to:
Deborah Rice, Director of Major Gifts
UC Davis School of Veterinary Medicine
Dean's Office, One Shields Avenue, Davis, CA 95616

CREDIT CARD

If you would like to make a gift using your credit card,
please call UC Davis at (530) 752-7024.
For more info, please visit the SOCKFIP.org website.
Short On Luck (S.O.L.)

...is an emergency foster program for needy cats.

...working in cooperation with community rescue groups and Animal Services Departments.
A new phase of the Short on Luck Program was launched in January of 2004. The Safe Place component of the S. O. L. is being developed to provide a temporarily safe place for cats that are caught up in a domestic violence situation and/or at risk of violence from their environment. The concept is to provide a temporary sanctuary through a network of emergency foster homes.

We hope to work cooperatively with local law enforcement, Animal Services and battered women's organizations. If you would like to participate in this new and unique program, please contact us via our website or at (925) 808-8364.

If you would like to provide T.L.C. and shelter for a needy cat...Contact: Sally - (925) 808-8364 FriendsOf@fffcatfriends.org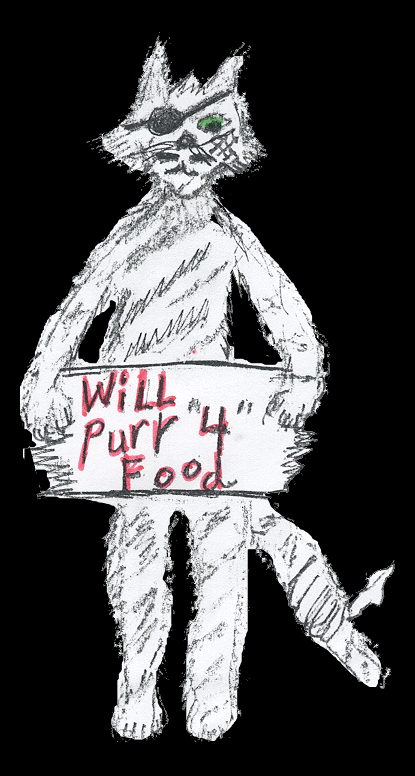 Lost and Found
LOST A PET?

FOUND A STRAY?
Please check our

Lost and Found


page.