Services & Programs
F.F.F. Programs and Services



FRIENDS OF THE FORMERLY FRIENDLESS is embarking upon a new and unique part of its Mobile Adoptions Program (M.A.P.) ... HAVE CAT WILL TRAVEL.

This unique program expands the opportunities for adopters to meet and get acquainted with cats/kittens that they see on our websites and/or adoption site(s) in the privacy of their own homes. Since most of us these days live increasingly mobile lives, it made sense for FFF to become more mobile to provide opportunities to meet and get to know our "formerly friendless felines". What better place than in the prospective home where they might live!

This unique opportunity gives FFF and the prospective adopter the benefit of seeing the potential new, furry, family member in their "home environment".

HERE'S HOW IT WORKS...

Beginning May 17, 2010, FFF will begin making appointments for this new service by contacting SALLY at 925 808-8364 or friendsof@fffcatfriends.org.
A prior interview is required to mutually select the best match for the living situation, client's preferences and prospective cat/kittens' personality and needs. FFF will then bring up to two cats/kittens for selection and a "home visit" to the prospective home. Then a kitty "trial sleepover" is usually scheduled for 5-7 days, after which it will be determined by the client & FFF to proceed with adoption or to make another selection. All FFF cats/kittens are spayed/neutered, current on their vaccines and have been combo tested. All FFF cats/kittens on "trial sleepovers" will need to be kept inside ONLY for safety purposes. For the health of all, resident cats in the prospective homes will need to be current on vaccinations and tested also prior to the "trial sleepover".

If it is preferred, FFF can make an individual appointment at one of our "get acquainted" sites throughout the County. Cats/kittens selected at our "get acquainted" site(s) will then be scheduled for their "home visit" and "trial sleepover" by mutual agreement. Afternoon and evening appointments are available during the week by contacting SALLY.

If a larger selection of cats/kittens is requested, we would invite prospective adoptors to visit our SCHEDULED ADOPTION SITES/EVENTS listed on our websites. We will have "Meet and Meow" sites through out our County.

We look forward to meeting you and helping you find that new, furry, feline family member(s) that melts your heart!

Hope to meet you soon.




Sally and Petunia



Short On Luck (S.O.L.)

...is an emergency foster program for at risk cats and critters.

...working in cooperation with community rescue groups and Animal Services Departments.
A new phase of the Short on Luck Program was launched in January of 2004. The Safe Place component of the S. O. L. is being developed to provide a temporarily safe place for cats that are caught up in a domestic violence situation and/or at risk of violence from their environment. The concept is to provide a temporary sanctuary through a network of emergency foster homes.

We hope to work cooperatively with local law enforcement, Animal Services and battered women's organizations. If you would like to participate in this new and unique program, please contact us via our website or at (925) 808-8364.

If you would like to provide T.L.C. and shelter for a needy cat...Contact: Sally - (925) 808-8364 FriendsOf@fffcatfriends.org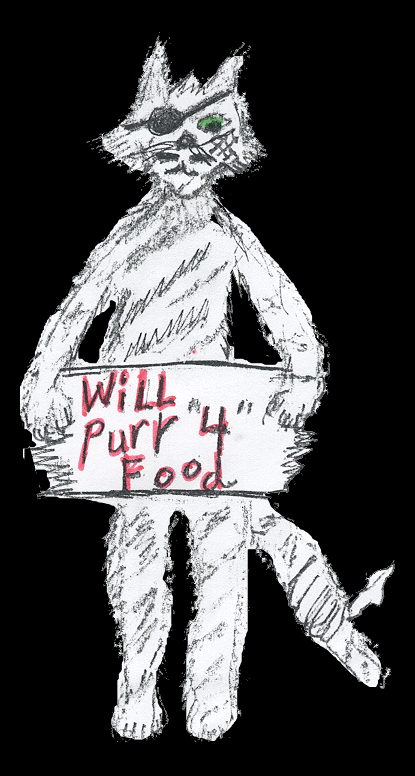 S.O.L RESCUE!
It began with a phone call...
A kind, concerned neighbor had been feeding a friendly but distressed kitty who had been crying incessantly to be let inside. She discovered that the small, tuxedo kitty had been abandoned by her person who moved away and left her in the back yard to fend for herself... or starve! The kind neighbor could only remember the owner vaguely as "Becky" but had no idea about her last name or whereabouts.
Although already "FULL", FFF couldn't leave this puss to starve or be at the mercy of chance. FFF arranged to receive this puss, named by the neighbor as "BEKKI" and get assessed and recovered by our vet, Dr. Evans.
Bekki proved to be wary, growly and very defensive around other cats. Her level of trust with people, as might be expected,
was shaken and it left her alternatively wanting affection but wary.
Through the following months, Bekki had to learn to adjust to friendly other foster cats and to trust us " people " again. She developed an affinity to her predominant care giver, Charlie, sidling up to him when possible in the cattery and growling at interloper fosters who interrupted her time with Charlie.
Gradually, Bekki adjusted to life in the cattery and enjoyed the catio. But there remained a melancholiness about her... as if she were waiting for someone.

One day, FFF received an email inquiry about our Bekki, whose story and picture had touched their heart.
FFF was overjoyed to meet the wonderful couple who having mourned the loss of a beloved tuxedo fellow, were ready to open their hearts to another.
The match was perfect! Bekki, now given the beautiful name, McKenzie, in memory of a dear friend, is blissfully happy with her new persons!
From the latest reports, Mc Kenzie has stolen their and families' hearts and runs the show!
We wish McKenzie and her new kitty Mom, Melissa and Dad, Ron, many wonderful and happy years together.  It brings a smile to my face and tear to my eye to see such a match.
It is New Beginnings like these that keep us at FFF going and renew our faith in the good people in our Communities.
ABANDONMENT IS AGAINST THE LAW…
REPORT IT TO YOUR LOCAL AUTHORITIES!
IN CONTRA COSTA COUNTY…

If you would like to provide T.L.C. and shelter for a needy cat, or dog... Contact: Sally - (925) 808-8364 FriendsOf@fffcatfriends.org
Visitor(s) In Fur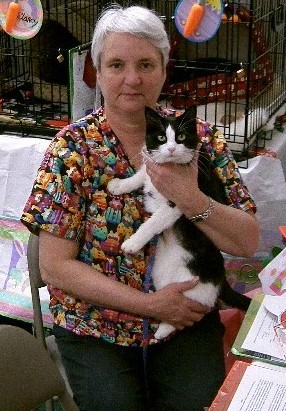 Sally, founder of F.F.F., with her cat, Petunia.

Petunia helps with humane education in schools and serves as a therapy kitty in the Visitor(s) In Fur Program

Petunia is also an official staff member, holding the title of cat liaison.
As any animal lover can attest to, the unconditional love that an animal can give provides a unique type of therapy and support that "modern medicine" is only just now learning. At its inception, F.F.F. has been committed to helping provide this type of unique therapy and support to those in need via our "therapy cat", Petunia. Petunia has been visiting home and hospital students, Alzheimer's homes, nursing homes, schools and preschools, FREE of charge as part of F.F.F.'s commitment to Community Service since the inception of F.F.F. in 2001.

If you know someone or a facility that could benefit from a "Visitor(s) in Fur", please contact us. We usually conduct a preliminary visit to plan for the best possible introduction experience. Our "visitor(s) in fur" are current on their vaccines, have been combo tested for feline AIDS and Leukemia, temperament tested, and have current flea control. They are not declawed.

Appointments for Petunia's visits can be booked through our VISITOR(S) IN FUR Program by contacting SALLY via phone at 925 808-8364 OR email sally@F.F.F.catfriends.org, type in VISITOR(S) IN FUR in the subject line. Please make sure that you leave a contact person's name and phone number.

F.F.F. is continuing to expand this Program by inducting more "visitor(s) in fur" ambassadors. You can meet our "ambassadors in training" periodically at our new mobile sites, to be listed on our websites.
Sally and Petunia
Lost and Found
LOST A PET?

FOUND A STRAY?
Please check our

Lost and Found


page.

FELINE INFECTIOUS PERITONITIS
F. I. P.
The worst three letters a cat-lover could ever hear.
FRIENDS OF THE FORMERLY FRIENDLESS is proud and excited to be a founding member of the new S.O.C.K. FIP research project. S.O.C. K. is the acronym for Save Our Cats and Kittens. SOCKFIP is a group of cat-lovers, breeders, rescuers, shelters and vets working together to generate essential funding for FIP research at the UC Davis Center for Companion Animal Health. Virtually 100% fatal, FIP strikes 1 in 100 of all cats. We know that most cats acquire the FIP virus early in life, though actual disease signs may not occur until weeks, months or even years later.

Right now, there's no prevention and no cure for FIP. It's time to change all that - and it can be done! Through the very exciting and promising work at UC Davis, we hope to learn how to prevent FIP or find suitable treatments, and spare future generations of cats and cat-lovers this nightmare. Because very little government funding is available for companion animal studies, we are relying on the vast community of cat-lovers to help.
RESEARCH UPDATE:
Today we share Dr. Pedersen's latest commentary on the FIP antiviral protease inhibitor field trial including a link to his most recent medical journal report. Please help FUND and FIND a cure for FIP by supporting UC Davis FIP research today. Your continued support is greatly needed to keep up the pace of progress, and YOU make a big difference! No amount is too small - please donate today to the Spring into Action Fund Raising Campaign. Together we are SOCKING it to FIP! Use pay pal link for credit cards or send a check payable to SOCK FIP - P.O. Box 602, Davis, CA. 95617.
Link to Full Preliminary Report
SUPPORT FIP RESEARCH AND SOCK IT TO FIP!
CHECK

Payable to:
SOCK FIP
Mail to:
SOCK FIP
P.O. Box 602

Davis, CA 95617

CREDIT CARD

If you would like to make a gift using your credit card,
please call UC Davis at (530) 752-7024.
For more info, please visit the SOCKFIP.org website.
WAYS YOU CAN HELP FIGHT F.I.P.
Refer friends and family to SOCKFIP.ORG
Tell your Veteranarian about SOCKFIP.ORG
Distribute SOCKFIP brochures
Become a fan of SOCKFIP page on Facebook
Contribute to SOCKFIP
Ask your club to support F.I.P. Research through donations
Ask your employer to match funds to F.I.P. Research donations
Hold a fundraiser for F.I.P. Research





S.O.C.K.F.I.P
EVENT...






EXCITING NEWS... PETUNIA and I recently attended the SOCKFIP meeting to receive an update on the battle vs. FIP.

A promising new trial study is now underway at UC Davis Companion Health, to test the effectiveness of antiviral drug(s), that could stop FIP from replicating! The study is a two-year study of 40 selected cats with naturally occurring FIP. The study has begun, and we await, with great excitement and promise, the possibility of DEFEATING FIP...

FIP is the scourge of the 21st Century in the feline world of medicine. A victory against this disease would be a landmark breakthrough that would save and change the lives of countless cats and their families!

As well, a breakthrough in this field could translate to major knowledge and progress in human studies and other corona virus studies!

We fervently support Dr. Niels Pedersen and Dr. Brian Murphy in their quest to defeat one of the most insidious and complex viruses of our time!

SAVE THE DATE!

Calling all cat lovers... Save the Date! Sunday NOVEMBER 6, 2016. UC Davis is hosting a Feline Forum - featuring two tracks. One for breeders and fanciers, and a second track for rescues and shelters. This will be held at Gladys Valley Hall at the UC Davis Vet School Campus in Davis, CA. A live webinair will also be available. Dr. Pedersen and nine other top feline researchers will be speaking in the day-long event. Here's a link to the roster of speakers and registration.
UC Davis 2016 Feline Forum

VISIT SOCKFIP for ongoing progress and updates on this, and other SOCKFIP News.



S.O.C.K.F.I.P. SEASONAL APPEAL!




SUPPORT FIP RESEARCH  AT UC DAVIS-SOCK FIP!

We are very grateful for your loyal support to 'Save Our Cats and Kittens from Feline Infectious Peritonitis (SOCK FIP) - funding for FIP Research at UC Davis. PLEASE REMEMBER SOCK FIP in your YEAR END GIFTING and MATCHING GIFT PROGRAMS WITH YOUR EMPLOYER I SOCK FIP is matching gift eligible - 501(c)(3) -#27-1523038.


FIP IS NOT A RARE DISEASE: One in 300 cats seen at veterinary institutions in the US die of FIP and hundreds of thousands of cats die globally each year. Dr. Niels Pedersen has devoted much of his renowned career to FIP research. He has published over 50 scientific papers and reviews on FIP alone. All this hard work is paying off, as great strides have been made in the past few years. There is· much to celebrate in 2015 as Dr. Pedersen nears one of the most important studies to date. SOCK FIP is extremely hopeful that Dr. Pedersen is on the path to frontier the first effective and proven treatment specifically for Feline Infectious Peritonitis.
NEXT MONTH: Dr. Pedersen embarks upon one of the most important studies to date - a field trial commences in January 2016 with protease inhibitors that have proven great promise in the Pedersen lab in arresting FIP. Now it is time to prove efficacy in the field with natural FIP cases. Much arduous and difficult research· has taken place to get to this juncture. Yet there are still more milestones and sizable costs related to proving and clearing a drug treatment for market. If the field trails correlate efficacy, the compounds will then progress to a rigorous and very expensive drug approval process.
Your continued support is needed to ensure there is funding to move this process along, until FIP is eradicated. No amount is too small. FIGHT FIP TO THE FINISH!




Together we will SOCK IT TO FIP!

YES! I WOULD LIKE TO MAKE A DONATION TO SOCK FIP RESEARCH!
Please make your check payable to: SOCK FIP and send it to:
SOCKFIP
P.O. Box602
Davis, CA. 95617

OR:

Donate with your Credit Card (Amex, Visa, Mastercard) via PAY PAL – on the SOCKFIP.org website, URL: http://www.sockfip.org/donations and click "Donate" Pay Pal link.