Want to Help?
Click the Donate button above to donate directly

to FFF via Paypal.


Welcome iGive Shoppers!

Donate to FFF While you shop, with AmazonSmile
---
---
ANNOUNCEMENT...


Friends of the Formerly Friendless is excited to participate in the AmazonSmile Program. Now when you shop at smile.amazon.com, FFF can receive much needed funds to continue our lifesaving rescue work.

| | | |
| --- | --- | --- |
| | | |

FFF will receive .5 percent of purchase amount directly to our FFF account. We feel that it is a win-win proposition for all. WE SHOP... FFF CRITTERS BENEFIT!

NOTE: AS OF APRIL 1ST, 2016, THE SHARES CARD WILL NO LONGER BE NEEDED. TO BENEFIT FFF

OUR SUPPORTERS WILL NEED TO REGISTER WITH E-SCRIP.
General Email:

Phone:

Sally - (925) 808-8364

"Catmail":
(whenever it gets there)

Friends of the Formerly Friendless
PO BOX 6566
Concord, CA 94524
Donations
We understand that for some of you, adoption or fostering is currently not an option. However, there are many ways you can help us help the animals. Here are just a few.
Donations are tax deductible.
We are a recognized 501(c)(3) organization.
Donations of monies or supplies.
Donations of Services
Bequests
Memoriams
Sponsoring of Fund raisers
Whatever you choose to do, the donations will go to the care of the animals and to support our Programs and Services. We are a volunteer organization with no paid staff or promo department. With your help, we can continue to make a difference in the lives of the animals we care for and to help the people whose lives are touched by them.
We are a recognized California non-profit Animal Rescue organization. We are recognized by the State of California and the Internal Revenue Service as a 501(c) (3) non-profit. All contributions are tax deductible to the fullest extent of the law.
Click the Donate button above to donate directly to

FFF via Paypal

.

CAN'T FOSTER? • CAN'T HAVE A CAT WHERE YOU LIVE?
CAN'T ADOPT NOW? • GOT A HOUSEFUL?
ALLERGIC TO CATS BUT LOVE THEM?

YOU CAN STILL HELP OUR KITTIES!




You can sponsor a kitty with a donation amount of your choosing to help us with our ongoing maintenance and care of our FFF "formerly friendless felines". Your donation will go to the care and maintenance of the kitty(s) that you choose. Just visit our Adoption List and SELECT a kitty that you want to sponsor.

You may then contribute an amount of your choosing, to the care and maintenance of that chosen kitty. The monies we receive will be applied to food, medical care, and maintenance of that chosen kitty. Just WRITE THE CHOSEN KITTY(s) name on the bottom of your check.




OR




You can also make a contribution of your choosing that benefits ALL of FFF's needy kitties. Your contribution will be put into our general fund for the benefit of all of our kitties.

Payment can be made directly to FFF via paypal or personal check.

If you wish, you can contact us at 925-808-8364 for updates on your chosen kitty and be a "VIRTUAL FRIEND" to that or all of the FFF "formerly friendless felines".

ANY and all sponsorships are greatly appreciated and rest assured will be put to good use for the benefits of the kitty(s). We have no paid staff from these funds so it will directly benefit the kitty(s) you have chosen.





HAVE A MEOWY CHRISTMAS
AND A HAPPY NEW YEAR



• Selling your house?
• Buying a new one?
• Know someone who is?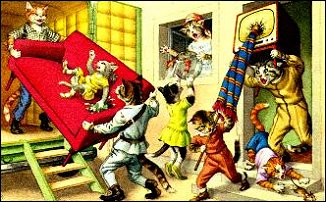 Our pet friendly supporter / Realtor, Bonnie Andrews, has extended a generous offer to FFF referrals! For every FFF referral that results in a finalized contract with her, she will DONATE 10% of her commission to FFF!

A win win situation for all... a dedicated, pet-friendly Realtor, to work with you to meet your needs, and. you can help our FFF Medical Fund that helps needy FFF fosters and community animals. You can contact Bonnie Andrews at:
Bonnie Andrews
Windermere Realty
Email : [email protected]
Cell Phone: 510-478-8266


Fostering
Friends of the Formerly Friendless is authorized to take out cats from several local Shelters, which we do when a cat is scheduled to be euthanized IF we can find a foster for it.

We are looking for caring, competent and loving people to help save these animal victims of our streets from certain euthanasia. We need people to foster these animals while we bring them back to good health, or to socialize them. We take care of the medical and food costs. You supply the TLC and commitment until they can be adopted.

We are in particular need of people who are patient and gentle with our youngest of feral kittens. Also, we are interested in someone to help us provide for the aged cats, alone and frightened, who have been dumped and abandoned by their families to be euthanized in our public shelters.

If you can help or know someone who can, please contact Sally.

We look forward to meeting you.