Contact Us
Adoptions are Temporarily
Suspended due to Covid-19
However, we WILL be conducting interviews regarding our foster kitties. If you see one of our kitties who steals your heart, contact us either through POSTED PHONE NUMBER or via our EMAIL. We will be glad to tell you more about our fosters. With the current, ongoing restrictions, we are unable to complete our adoption process since it requires a home visit and a "trial visit" period.
If you would like to provide T.L.C. and shelter for a needy cat...





Contacting FFF




You may contact
Sally at Friends of the Formerly Friendless

Email Sally for adoption information

Email FFF for inquiries

(925) 808-8364




Friends of the Formerly Friendless
P.O.BOX 863
Penn Valley , Ca 95946
Contacting FFF ...
To schedule an appointment for our
Contact Sally directly at (925) 808-8364 or

[email protected]

.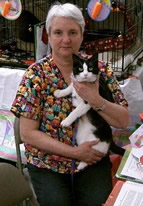 Sally is pictured at left with her cat, Petunia.

Petunia helps with humane education in schools and serves as a therapy kitty at Alzheimer's homes through our Visitor(s) in Fur program.

Petunia is also an official staff member, holding the title of "cat liaison".