Contact Us
If you would like to provide T.L.C. and shelter for a needy cat...


"Catmail":
(whenever it gets there)

Friends of the Formerly Friendless
PO BOX 6566
Concord, CA 94524
Contacting FFF ...
To schedule an appointment for our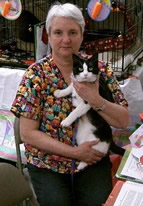 Sally is pictured at left with her cat, Petunia.

Petunia helps with humane education in schools and serves as a therapy kitty at Alzheimer's homes through our Visitor(s) in Fur program.

Petunia is also an official staff member, holding the title of "cat liaison".