FELINE INFECTIOUS PERITONITIS
F. I. P.
The worst three letters a cat-lover could ever hear.

FRIENDS OF THE FORMERLY FRIENDLESS is proud and excited to be a founding member of the new S.O.C.K. FIP research project. S.O.C. K. is the acronym for Save Our Cats and Kittens. SOCKFIP is a group of cat-lovers, breeders, rescuers, shelters and vets working together to generate essential funding for FIP research at the UC Davis Center for Companion Animal Health. Virtually 100% fatal, FIP strikes 1 in 100 of all cats. We know that most cats acquire the FIP virus early in life, though actual disease signs may not occur until weeks, months or even years later.
Right now, there's no prevention and no cure for FIP. It's time to change all that - and it can be done! Through the very exciting and promising work at UC Davis, we hope to learn how to prevent FIP or find suitable treatments, and spare future generations of cats and cat-lovers this nightmare. Because very little government funding is available for companion animal studies, we are relying on the vast community of cat-lovers to help.
Update on UC Davis FIP Anti-Viral Drug Studies from Dr. Niels Pedersen
Field Trials Completed for now
UC Davis is no longer accepting cats with FIP for treatment. No exceptions will be made and no drugs can be provided. Two different drugs have been tested against naturally occurring FIP and both show promise and will hopefully be commercialized. This is a complex process that ultimately involves identifying potential companies interested in taking a drug through FDA approval and licensing. This is not a simple task and could take one to two years before these drugs become available for use by licensed veterinarians. We have described our experiences with GC387, the first of these drugs, in an upcoming article in the Journal of Feline Medicine and Surgery. This article will be available open access for free download at the JFMS website. A similar report will be published on the second drug, EV0984, as soon as all the cats have finished their treatments and have been observed for several months for disease recurrence. Other drugs may be tested in the future.
I wish there were currently available treatments for FIP, but none have proven curative and therapy remains basically symptomatic and targeted at extending a reasonable quality of life and not to cure the infection. We are convinced based on our research that anti-viral drugs of the type currently used for HIV/AIDS and Hepatitis C virus (HCV) infection will provide the best chance for curing this terrible disease of cats. Such drugs include protease inhibitors (GC376), nucleoside reverse transcriptase inhibitors (EV0984), non-nucleoside reverse transcriptase inhibitors, as well as other classes of anti-viral drugs that target specific aspects of FIP virus replication.
We apologize for the delay that you may have experienced in contacting UC Davis or SOCK FIP, as we are receiving so many requests for FIP treatment and information to possibly give each query the time it deserves and requires. We wish there was a treatment available right now that could cure this heartbreaking feline disease but please realize that researching various drugs, finding ones that are safe and effective in the laboratory and field, and getting them into the hands of veterinarians is not a simple and quick process.
-NC Pedersen


SUPPORT FIP RESEARCH AND SOCK IT TO FIP!
CHECK

Payable to:
SOCK FIP
Mail to:
SOCK FIP
P.O. Box 602

Davis, CA 95617

CREDIT CARD

If you would like to make a gift using your credit card,
please call UC Davis at (530) 752-7024.
For more info, please visit the SOCKFIP.org website.
WAYS YOU CAN HELP FIGHT F.I.P.
Refer friends and family to SOCKFIP.ORG

Tell your Veterinarian about SOCKFIP.ORG

Distribute SOCKFIP brochures

Become a fan of SOCKFIP page on Facebook

Contribute to SOCKFIP

Ask your club to support F.I.P. Research through donations

Ask your employer to match funds to F.I.P. Research donations

Hold a fundraiser for F.I.P. Research





S.O.C.K.F.I.P
PRESENTATION...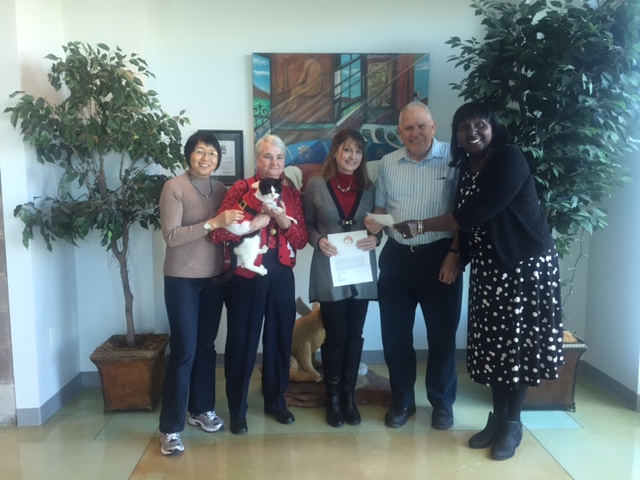 SOCKFIP President , Carol Marshall and SOCKFIP Board Member, Sally Morgan Welch,and Petunia, the feline SOCKFIP cat liaison, presented Dr Niels Pedersen with a $60,000 check for his ongoing research efforts toward conquering FIP. Thanks to the fundraising efforts spearheaded by SOCKFIP President , Carol Marshal, the funds will be available for Dr. Pedersen's ongoing drug research trials to test and develop promising antiviral drugs to defeat the deadly F.I.P. , Feline Infectious Peritonitis.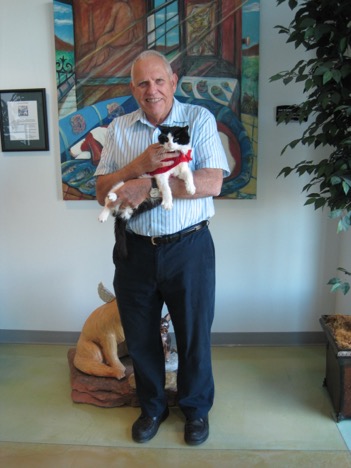 Dr. Pedersen has completed a collborative effort with Kansas State in a series of trials on a promising antiviral drug and is working on recording and publishing his findings.
There potentially are more drugs to test and possibly develop that could be the answer to unlocking the complex enigma of FIP.
These are exciting and hopeful times! If anyone can find the weapon to destroy FIP ...it will be Dr. Pedersen ! Dr. Pedersen is responsible for developing the feline leukemia vaccine that now protects our beloved feline family members from feline leukemia . During the 1970's , feline leukemia was the scourge of cat health , and was defeated by Dr. Pederesen, with the financial efforts of the original SOCKFIP, which successfully raised funds to defeat feline leukemia.
The current SOCKFIP , was graciously allowed to resurrect the name , and now directs its efforts to defeating FIP. Please join us in this fight. ! " FFF and PETUNIA is proud to be a founding member of SOCKFIP and ongoing supporter of Dr. Pedersen and his collaborative colleagues' ongoing research to end FIP !"